When evaluating a foam product for use in a comfort application, perhaps the most useful testing value for determining its usability is compression strength. This value rates a foam's feel and firmness by testing how it yields to or supports applied weight. These values are the easiest way to categorize materials, making the selection of a foam type easier by narrowing the field and even helping make a purchase decision if the chance to feel the foam in person is not possible.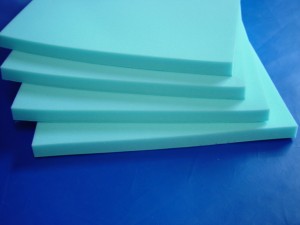 Compression strength is evaluated through a test called Indentation Load Deflection (ILD), also known as Indentation Force Deflection. This is a computer controlled performance evaluation, with standardization allowing all materials tested using this process to be measured against each other on a balanced plane. This sort of standardization is necessary in the foam industry, where there are hundreds of similar products and only minor differences can make one foam type suited for an application and make another the wrong choice.
There are multiple ways foam strength is tested, but the most prevalent is the 25 percent compression test. As the main method of testing, if a material is simply stated as having an ILD value of "Z," that refers to its 25 percent compression test results. The most important aspect of this evaluation is ensuring that a proper sample size is tested. Samples must be 4 inches thick, 15 inches wide and 15 inches long. Maintaining this consistency across every test is important because foam materials can bear weight and pressure differently depending on thickness and size, even if the sample is cut from the same bulk material. Thinner sections of foam will yield more easily to weight while thicker sections will be more resilient. Additionally, testing products of different dimensions eliminates the test's control and, in turn, the ability to evenly compare results from one material to another.
To conduct the test, a circular metal indenter applies downward force into the testing sample resting on a flat surface until the foam is compressed 1 inch (25 percent of the sample's 4 inch height). The amount of pressure the indenter requires in pounds to compress the foam to its correct height is its ILD. If 50 pounds are required to compress the sample 25 percent, its ILD value is 50. On average, most ILD values fall on a spectrum from the low teens up to the 60s and 70s.
With foam's ILD values directly correlated to the weight needed to compress it, customers can use those values to interpret the feel of a tested material type. The lowest ILD values indicate the softest and most cushioning foams, as they require the fewest pounds to be compressed. These products are often used in a pressure relief system as seating pads, mattress toppers and chair backs where comfort is the exclusive goal. ILDs in the high-20s to the mid-40s generally mean the foam carries a balance of comfort and support. These materials can also be used for pressure relief cushions where a little extra support is desired. These foam types are firmer than the lower-ILD types but can still provide cushioning pressure relief. These materials are used predominantly as a pillow or in body wedges where the product needs to support weight while offering the most comfort. They are also utilized in mattresses, shredded foam filling or for orthopedic support. ILD values in the 50s and greater are the most supportive and firm foam materials. These are most commonly used in seating cushions that bear the full weight of a body centered on a smaller area, automobile seating and the firmest bedding materials.
Recognizing that ILD is not indicative of a material's quality is an important distinction to understand. The spectrum of ILD values only interprets a material as hard foam or soft, not long-lasting or high-quality. To understand those foam characteristics, a product's density should be examined. Along with ILD, Density can help you find the perfect foam for creating a better mattress, pad or cushion.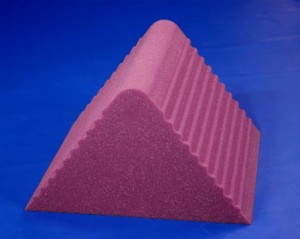 In addition to the standard 25 percent test, there are additional compression strength evaluations that provide more insight into a material. Frequently included along with the 25 percent ILD data is a 50 percent compression value, which is a measure of the pounds required to compress a foam sample half of its height. This is tested because compression is not necessarily linear, so you cannot simply double the 25 percent compression value to know how it responds to greater pressure. Many types of foam have similar 25 percent ILDs but very different 50 percent ILDs.
Yet another test is support factor, which may also be called sag factor or compression modulus. This value is a comparison ratio between the 25 percent compression value and a deeper 65 percent degree of compression. The 25 percent value is divided into the 65, typically resulting in a value from 1 to 3 that more accurately represents support capability than a single test. Because foam is going to be compressed by 65 percent more often in real-world use than 25 percent, this combination generates a performance value while still utilizing the 25 percent ILD. The greater the support factor value, the more supportive the material is.
While only one of the various factors to take into consideration while evaluating a material for use in an application, compression strength remains one of the most important. Firmness, feel and support are the characteristics foam users are going to be most sensitive to and the ones that dictate if they like the material they have selected or not. Knowing how to interpret ILD values can make selecting the right material much easier, which can save you time, effort and even money.