Features
For fantastic softness and support from your futon, in both the upright seating position, as well as folded flat as a bed, Foam Factory, Inc.'s Foam Futon Pad is luxurious and resilient, but most importantly, it's incredibly comfortable! Most futons come with bare-bone, thinly-stuffed fiber cushions that compress quickly, leaving you feeling each and every rung in your futon's frame. With our Foam Futon Pad, you get dual-material construction, designed to provide long-term support in either usage position, while providing comfort for years of rest and relaxation.
The 6" Foam Futon Pad is made from two 4" HD36 High Quality foam cores, with a double wrapping of 1" Dacron fiberfill. Each cushion core is wrapped individually once, and wrapped a second time, together. This produces a cushion that is neither too soft nor too firm, with a plush outer fiberfill layer that doesn't diminish support. This "hinged" construction design also helps avoid the creasing you would get in a solid piece of foam. Over time, those creases can lead to premature wear and will be uncomfortable for anyone using the futon. Upgrade your futon with Foam Factory, Inc.'s Foam Futon Pad, and get comfort you didn't know was possible from your favorite piece of furniture!
Standard Size:
75" x 54" x 6" - Full-Size mattress dimensions, when resting flat
Cover Options:
Select from the Dropdown Menu
Removable Twill Zippered Cover - 100 percent cotton

Removable Suede Zippered Cover - 100 percent micro-polyester fiber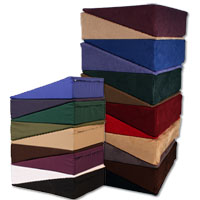 Foam meets
CertiPUR-US®
certification.
Details
Durable HD36 High Quality foam core

Double Dacron fiberfill wrapping

"Hinged" core design resists creasing wear

Full mattress size when resting flat (75"x54")

Covers include zipper for easier cleaning
Resources
Notes
Manufacturing Tolerances
Products may carry a size tolerance depending on the style and job. Please see our Tolerance Table.

Actual Fabric Colors
Colors above may differ from actual fabric colors due to differences in your monitor's (screen's) setup.
Reviews
Patrick McBride | July 22nd, 2020
Better than a normal Futon, but not as good as a multilayered memory foam mattress. It feels very firm, even though i am sinking almost all the way through it. I weigh 155 pounds. I added 1" latex on top of it, and it is better, but still not something I would want to sleep on all the time.
Joanette MEJEAN | February 16th, 2020
I purchased this as a replacement futon mattress. It is so much better than the mattress that came with the futon! Love it!
Christine Chase | June 26th, 2019
Our futon mattress is great for the space in our RV and arrived earlier than expected. My son has chosen to sleep on it rather than the upper bunk of rv because it's more comfortable.