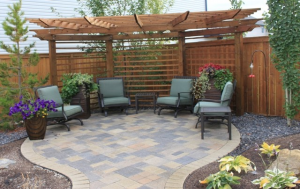 If you live in an area where freezing temperatures and heavy snowfall are regular winter occurrences, then chances are your porch or patio have been utterly neglected for the past few months. That means you'll have to put in some time revitalizing your outdoor space so it can be deemed ready for spring use. Here is a brief list of ideas to get you started:
Sweep or power wash the area to clean it of winter debris.
Pull your patio furniture out of storage and evaluate the condition of each piece. Clean, remove rust, repaint, or replace as necessary.
Sand down the rough edges or splinters on wood furniture and patio planks, and consider re-staining the wood for a fresh new look.
Rejuvenate deformed or lifeless cushions by replacing the old foam with new Dryfast foam. Dryfast foam has an open-cell structure that helps it drain water and dry quickly, and its antimicrobial properties protect it from developing mold and mildew. This makes Dryfast foam ideal for patio furniture and general outdoor use.
Find the focal point of your porch or patio—be it a fire pit, garden, outdoor television, or water feature—and arrange your furniture in a natural way around that point.
Add colorful flowers, decorative throw pillows, or other bold accents to the area to create a bright and cheerful ambience.
Tend to the landscaping in the immediate area by mowing the lawn, pruning shrubs, and removing dead leaves and plants.
Scrub the grill plates and other outdoor cooking equipment and utensils to ensure they're clean and ready to go for your first barbecue of the season.
Place citronella candles, electric bug zappers, or other pest repellents in strategic locations around the porch to keep unwanted insects at bay.
Test the bulbs in your outdoor lighting and replace any that are weakened, broken, or burned out.
Now that spring is almost here, it's time to give your outdoor space some TLC. Use these ideas to begin revitalizing your porch or patio so you can fully enjoy the warm weather and sunshine in the coming months.