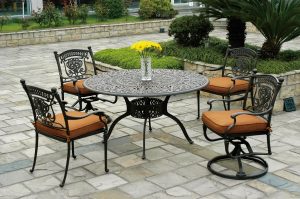 Comfortable patio furniture may sound like an oxymoron at times—especially when it comes to sets made from metal or wood. These materials are purchased more for the sake of their durability and aesthetic appeal than for comfort, which is why a good chair cushion can make all the difference. Fortunately, you don't have to part with lots of cash to add some extra comfort to your outdoor patio retreat. All you have to do is follow these quick and easy instructions to make your own patio chair cushions.
Supplies needed:
Dryfast foam for each patio chair
Weatherproof fabric for cushion covers (approximately 1/2 yard to 1 yard for each cushion, depending on size)
Basic sewing supplies (scissors, needle, thread)
Measuring tape or ruler
Electric kitchen knife for cutting foam
Measure
The first step is to measure the seat of each patio chair you intend to cushion. If the chair has a square or rectangular seat, you can easily measure it with the measuring tape or ruler. If the chair has an irregular seat shape, you can trace the shape onto a piece of thin cardboard or construction paper. Once you have these measurements, use the electric kitchen knife to cut the Dryfast foam to the required dimensions.
As an alternative to measuring and cutting your own foam, you can order one of the custom foam cushion shapes and styles we offer at FoamByMail.com.
Sew
The next step is to sew the fabric covers to protect your Dryfast foam. This can be accomplished in a variety of ways depending on your sewing skills and how fancy you want to get. For the most basic type of cover, simply fold a length of fabric in half over the foam with the patterned sides facing each other. Take care to leave extra fabric for seams along all sides. Next, remove the foam and sew the seams on three sides before turning the fabric right side out, reinserting the foam, and sewing the fourth side closed.
Another option is to sew a zipper along one end of the fabric cover to make for easier removal, replacement, or washing.
Enjoy
Once you've crafted DIY foam cushions for all of your patio chairs, you and your family will be able to stay comfortable longer while enjoying barbecues, pool parties, and other backyard activities, so get started on this project today!