With foam, the ability to make the right purchase decision is greatly based on your ability to compare one product to another. A foam material's density is one of the best ways to do this, but knowing a single product's density while not knowing how that value measures up to other foam types is like being given a boat in the middle of the desert. Sure, now you have a boat, but how are you supposed to use it?
For example, if you know density is representative of the weight of a 12" x 12" x 12" foam sample, and a 2.8LB open-cell polyurethane foam is considered high-density, durable, and resilient, you're already ahead of the game! (It is also important to understand that density is a unique trait different than firmness/feel. For more on their differences, take a look at our previous post.)
What matters though, is the ability to know where that 2.8 value falls on the scale, and how it compares to other values. For example, what if you encounter a 1.2LB density open-cell polyurethane foam? In a numerical sense, 1.2 is pretty close to 2.8, but does that closeness correlate to foam density? Without an understanding of the overall scale where most of these values fall, they're hard to compare.
Because of this, we at Foam Factory wanted to present a guide to help you better understand the range of density values as they apply to conventional open-cell foam, making it much easier for you to make decisions based off your own understanding.
Fair Quality: 0.8LB – 1.5LB Density
Foam in this range is at the low end of density and can be considered fair quality; good for specialty uses and light applications. A density at the lower end means there is less physical foam mass in the material compared to higher densities, which leaves it prone to breaking down more quickly under use.
Fair-quality foam products serve multiple uses however, and their cost-effectiveness makes them smart for many applications. For example, when you need to ensure something fragile gets safely shipped, low-density foam is a fantastic packaging material. And at a lower cost than high-density materials, you can dependably ship, store, and secure products affordably.
Lower density foam is also great for occasional-use comfort products. If used as a soft bed topper by an average-sized individual every day, a 1.5LB density foam will begin to show a noticeable decline in support and comfort after six months to a year. But if used occasionally, such as in a guest bedroom about 60 to 90 times a year, you could get three, four, or even five years of comfort out of a lower-density mattress topper at a fraction of the price of a new mattress. When you pair a fair-quality foam with the right application, you will get the performance you need at a great price.
Good-Quality: 1.6LB – 2.4LB Density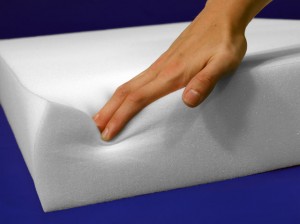 Material within this range can be considered medium-density foam, and good quality. The difference between a 0.8LB density material and a 1.8LB material is fairly substantial, despite what looks like such a minor change in value.
In this range, you find materials that hold up to use better, are able to be used every day, and don't cost an arm and a leg. This density span carries perhaps the greatest range in quality, as you would expect from products that bridge the gap between low and high-quality. Fortunately, foam density has a linear relationship with quality, so the greater the number, the more durability and resilience you're getting out of a product.
In this range, you will find a majority of the conventional open-cell foam products on the market, especially around the 1.8LB density point, like Foam Factory's Lux Regular foam. Many retailers will claim 1.8LB density foam products are high-quality, but this borders on being a white lie. While still very good-quality products, there is another whole tier of foam density readily available to individuals wanting the top quality open-cell foam.
Couch cushions and pillows at the higher end of the range are great products, and frequently-used packaging materials at the lower end can maximize bang for your buck with excellent performance.
High-Quality: 2.5LB – 3.5LB Density
For conventional open-cell foam, materials in this range are the best of the best. Compared to the lowest density materials, high-quality foam can have double or even triple the physical foam mass packed into the same 12" x 12" x 12" testing size.
Products with a density in this range offer the greatest quality available, earning their keeps in the most demanding applications. Mattresses and cushions can be made from mid-density foam, but when using high-quality foam, you can get a much longer lifespan out of these products, as they hold up to the same amount of abuse for longer than lesser materials.
In many ways, products in this range can be seen as an investment due to the longevity they will bring to the application where they are utilized. For comfort and support products, high-quality, high-density foam in this range represents the best of the best in conventional open-cell materials.
As you can see, a half pound of density, or even just a tenth, goes a long way with foam. With a majority of products falling in the 1LB to 3LB density range, understanding the degree to which a seemingly small numerical difference can make will help you find the perfect foam for your needs.