So you've got yourself a delightfully comfortable foam mattress that's making your dreams as sweet as it is soft. But after just a few months, there's something that's not quite right, and it seems like the honeymoon is over. What's limiting the comfort level of your amazing foam mattress? Why is your foam mattress already losing its magic?
The answer is: it's the foundation. Foundations that aren't a good fit for your mattress can cause a variety of issues that lead to a lack of comfort and even damage to the foam. Let's go through the most common issues impacting foam mattresses to ensure that your foundation keeps you comfortable and helps your luxurious mattress last.
Soft Foam Foundation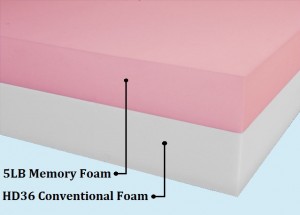 The first thing that can cause your mattress to be less comfortable is a foam foundation that's softer than your foam mattress. Not only does this make your entire sleeping experience unstable, but it negates all of the support your foam mattress provides. When both the foundation and the mattress are foam, the foundation should be firmer than the mattress to give you the best possible experience.
The top layer is meant to provide comfort by providing a combination of softness and support where you need it. The bottom layer is functioning as a stability and support system. Having soft foam all the way through may seem logical, but it results in a loss of support, directly affecting the comfort of your mattress.
Your foundation needs to be firm enough to support your foam mattress effectively. As a rule, the foam should increase in firmness the farther down you go. This is why a good mattress topper is even softer than the mattress beneath it. If you're looking for a way to measure, much of the foam used for mattresses is rated with an Indentation Load Deflection (ILD) value. The higher the ILD, the firmer the mattress will feel. If you're looking for great options, consider Foam Factory's Dunlop latex, Lux-HQ, or HD36-HQ foam foundations for your best bet on comfort and stability.
Improper Slat Foundation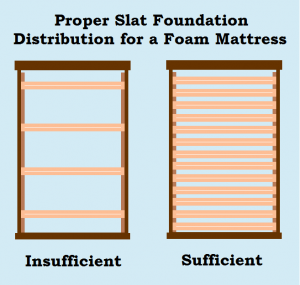 Another common foundation issue affecting mattress comfort and longevity is the quality of the slat foundation they sit on. Having slats that are too far apart in a foundation allows for gaps that your foam mattress to sag through, leaving you uncomfortable on top. Foams often behave like a fluid; without enough support, they'll make their way into any available spaces. If your slats have too much space between them, no matter how good they are, there won't be enough support for your mattress, and the sagging effect can damage the longevity of the foam.
Slats must also be able to easily support the weight of the mattress, any foam foundation, and the sleepers without deforming or breaking. A broken slat or a slat that bends when you get on the bed isn't doing anything to support you or your mattress. And that leads us to…
Broken Foundation
No matter how durable and wonderful a foam mattress is, a foundation that punctures it will cause irreparable damage. This can happen because a foam mattress is one solid piece of material, and damage to one area can ruin the entire mattress! Whether your mattress is made of conventional foam, memory foam, or latex foam, an unfit foundation can wreak havoc and severely limit its lifespan. So, if your foundation has some breaks in it that can tear into your mattress, it might be worth considering replacing it before you replace your mattress.
There are a couple of elements to keep your eye on when watching for potential mattress damages.
Does your foundation have split or broken wood? These can rip into and pinch your foam. Are these loose or exceedingly thin boards? These are a hazard waiting to happen when the wood breaks. Are there nails, staples, or box spring coils that could cut into your foam? Take care of these before placing your mattress on top of them. Noticing these details before damage occurs can save you the time, energy, and cost of having to get a whole new foam mattress!
The foundation you're working with can make or break your foam mattress. The comfort of sleeping on a well-made and well-supported foam mattress is one of the most enjoyable experiences in everyday life. Nothing improves your outlook and health more than a great night's sleep. Don't lose your snooze power by trusting a foundation that isn't meant to work with your mattress or isn't fit to sustain and support it. Check out Foam Factory's variety of foam foundations if you're looking to upgrade, and take care of any issue that could damage your mattress and the ultimate comfort of the sleeping experience it offers. If you have more questions on this or any foam product or project, please Contact Us today!