After our previous post, Need a Custom Bed? Try a Layered Foam Mattress!, introduced readers to layered mattresses, we at Foam Factory felt it would be helpful to provide a few examples that outline the versatility foam bedding offers. With these mattresses, we'll cover a few different ways you can build a great bed for just about anyone, starting off with an affordable mattress that will help keep some green in your wallet!
The Economy Class: Queen-Size Cost: About $120.00*
The Build: 4" Poly Foam Foundation + 2" Super Soft Comfort Layer
A supportive foundation is the most important part of a bed, even when you're on a tight budget. To keep your funds in the black, a Poly Foam base layer is a great solution for an economy mattress. We don't suggest layers any thinner than 4" for foundations, as the ability to provide support greatly diminishes under that mark. Poly Foam is of lower density than our highest-quality foams, but with mid-grade firmness, it is able to offer a strong, comfortable base at a great price. For the surface comfort layer in this economy mattress, we suggest Super Soft Foam. Super Soft gives superior cushioning in a comfort layer that works well in concert with Poly Foam's support. For an averaged-sized individual, a 2" Super Soft comfort layer can provide a plush, cloud-like experience. Combined, the two layers form a well-balanced, 6" mattress that can help you get great sleep without costing an arm and a leg.
The Cloud: Queen-Size Cost: About $182.00*
The Build: 4" HD36-R Foundation + 2" Super Soft Comfort Layer + 1-1/2" HD36-HQ Eggcrate Comfort Layer
"I want the softest bed you have," is a simple request that far too often results in the individual behind those words taking home a bed negligibly softer than the one they're replacing. But when dealing with foam layered mattresses, you can confidently construct a mattress softer than any you've slept on before.
It's important to remember that even for the softest bed, you still need support from the foundation. For a pure-comfort build-a-bed, we suggest going with a 4" HD36 medium-feel foundation, in either regular, or high-quality varieties. HD36-HQ has a greater density than the regular style, but they both feature the same balanced firmness. Placed on the foundation, a 2" Super Soft Foam middle layer, covered with an HD36-HQ 1-1/2" convoluted eggcrate comfort pad, will give you incredible softness and comfort. Eggcrate foam is softer than the identical material in solid sheet form due to the peak-and-valley pattern, and with HD36-HQ, you'll get the softness you want, with longevity and durability. The Super Soft provides ultra-plush padding between the surface and the base, making the mattress feel softer without reducing support. This three-component mattress will give you that "softest bed possible" you've been chasing after.
The Universal Mattress: Queen-Size Cost: About $232.00*
The Build: 4" Lux-R Base Foundation + 4" HD36-R Middle Foundation + 2" Super Soft Comfort Layer
Sometimes, comfort preferences can change, leaving you with a bed that's still in great shape structurally, but is no longer something your body finds comfortable to sleep on for an entire night. Or, you may find yourself with guests who frequently visit, and want a bed that can handle their full range of comfort preferences. When you have a layered foam mattress, you can construct a utility-style mattress with an all-around feel that lets you shuffle layers to meet the preferences of changing tastes, whether they belong to you or your guests.
For this build, a double-base setup is used. This gives you a loftier bed, which is easier for most people to get in and out of, and the ability to alter the foundation as needed. We suggest implementing this with two 4" sheets: one of HD36-Regular and another of Lux-Regular. The HD36 is a medium-feel material, while Lux is a firm foam. Atop this two-layer foundation, 2" of Super Soft makes for a great comfort layer.
The versatility in this mattress is found in its ability to shuffle layers. The most balanced stack is 4" Lux-R on the bottom, followed by 4" HD36-R, with 2" Super Soft on top. This creates a well-supported, cozy mattress that's not too firm. For people who like their beds to be firmer, 4" Lux-R can go in the middle, with the 4" of HD36-R on the bottom. And if you or a guest isn't terribly fond of the Super Soft layer, it can be completely removed and the two foundation layers can be slept on directly without any issues! With this mattress build, you'll have a Swiss Army knife's worth of versatility without needing a Swiss bank account to make the purchase.
The First-Class Mattress: Queen-Size Cost: About $770.00*
The Build: 6" Dunlop Latex Foundation + 3" 5LB ViscoMAX Memory Foam Comfort Layer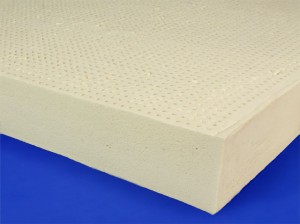 Sleep has an impact on every facet of our lives, so justifiably, some individuals prioritize mattress quality over cost. Given the benefits sleep has on every aspect of your life, this is often a smart approach; provided the money spent is consistent with the improvement in quality. Fortunately, building a premium layered foam mattress from Foam Factory gives you an advantage in both areas: you get significant savings over pre-built mattresses, while receiving the highest-quality materials.
To get the maximum amount of longevity and support in a foam mattress base, you won't do better than Foam Factory's 100 percent all-natural Dunlop latex. This 6" thick foundation layer moves in immediate support of any change in pressure, and often serves as an outstanding mattress on its own. At 4.6LB, Dunlop latex has the greatest density of any mattress foam sold by Foam Factory, meaning it has the greatest durability and resilience; just what you're looking for in a mattress foundation.
For the sleep surface, the most luxurious, pressure-relieving, and body-enveloping experience you can get is from a 3" 5LB ViscoMax memory foam topper. The greatest density memory foam carried by Foam Factory, it, as well as the Dunlop latex base, comes with a 10-Year Warranty, ensuring its quality. Memory foam softens and contours to the body from the heat it generates, leading to better circulation and comfort. This means less tossing and turning, and a fuller, more restful night's sleep. Pairing these two top-tier materials will provide you with a comfortable and supportive premium-quality mattress you'll love sleeping on for years to come.
*NOTE: Prices do not include possible taxes or shipping.