---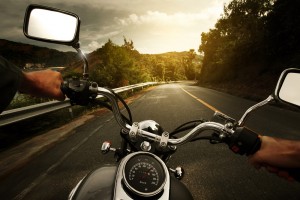 As a motorcycle owner, reupholstering the seat is something you may have to do at some point. For example, you might need a new seat if your old one begins to deteriorate after years of use, sustains damage in an accident, or is too low, too high, too angled, or too uncomfortable in some other way. Reupholstering a seat is also something that will eventually appear on your To Do list if you enjoy restoring vintage bikes in your free time. Regardless of the reasons why you're tackling the job, here's how to do it yourself:
Remove the seat pan from the motorcycle using a screwdriver. Be sure to keep the screws in a safe place so as not to lose them.
Carefully remove and discard the staples used to attach the upholstered seat cover to the seat foam. Retain the cover itself for reuse (if intact) or to trace as a pattern for a new cover.
Use the old seat foam as a pattern for your new foam. Replace it with a sturdy base layer of dense closed-cell foam and a top layer of softer polyurethane (open-cell) foam.
Determine the desired height and angle of the seat, and then trim the new foam to these custom dimensions with an electric carving knife. Go slowly and recheck the fit as often as necessary during this step.
If the changes you made to the new foam are within an inch or an inch and a half of the original dimensions, the original seat cover should still fit. If the changes were more substantial, cut a new cover out of leather or vinyl using the old cover as a pattern. Just make sure to allow for extra inches where needed.
Staple the seat cover to your new foam seat. Start by stapling one side and then placing the next staple directly across from it on the other side. Keep the seat cover taut throughout the process to yield a smooth, wrinkle-free finish.
Replace the seat pan on the bike and reattach with the screws.
Go for a test ride and make note of any abnormalities or imperfections that need to be adjusted.
Whether you have to replace or restore a damaged seat or simply want a more comfortable ride, doing the job on your own is a great way to save money. Check FoamByMail.com today for the closed-cell and open-cell foam required to complete this DIY project.