Keeping children active and healthy is one of a parent's most important jobs and instilling the benefits of exercise at an early age is a lesson that can benefit a child over their lifetime. Exercising the mind is just as important as exercising the body, as children cultivate social skills and use their imagination and creativity while playing. Having fun on the playground is perhaps the best way to accomplish all of these things, helping your child learn and develop under the guise of fun.
With any activity involving children, safety is always a concern. Unfortunately, the things kids seem to enjoy most; going faster and climbing higher, are also the things that result in injuries. It is impossible to completely remove the risk of injury for children, especially on playgrounds, but it is still important to take every necessary precaution to try and minimize the potential for injury. With Foam Factory's inventory of cushioning and impact-absorbing foam child safety products, you can help make sure your child gets the most out of his or her play time.
Often made of metal, wood or plastic, playground sets need to be rigid and strong to support the weight of children and the force of their activities. This strength also makes for an unforgiving surface that doesn't feel good to bump a head or elbow on. To soften rails and beams that get a little lower every day as your child grows taller, Foam Factory manufactures closed-cell neoprene foam sheeting that can be wrapped around any hard surface or sharp edge. Available in thicknesses from 1/8 of an inch to 2 inches, you can select the material size that's perfect for your setup. These wraps are particularly useful around overhead beams where kids enter into areas or on a cross-beam over the opening to the slide. For multi-level play areas, the ground floor can have low floor joists from the level above, so padding these is another excellent safety option.
Many play areas are also attached to or accompanied by swing sets, which means there will be plenty of distracted, fast-moving children running by the support posts that extend from the swing's structure. These are the perfect opportunities for a child to misjudge the height of the pole they are running under and stub a toe or bang a knee. Wooden sets also have the added danger of four edges on every beam, where metal and plastic sets are usually rounded. With full neoprene sheets measuring 48 by 80 inches, these foam bumpers can be wrapped around support poles to more than 6 feet high. A pole bumper is useful for other structures as well, like monkey bar supports or tetherball poles. Half sheets measuring 24 by 80 inches are also available.
As a closed-cell foam, neoprene is water resistant to stand up to the elements and will not rot, mold or mildew. This safety foam, whether wrapped around a support pole or as part of a play set, can be installed in numerous ways. Sheets can be secured with straps or waterproof tape or even adhered with special spray adhesive, also stocked by Foam Factory. If there are parts of railings or joists unexposed to activity, the playground pad can also be screwed or bolted directly into the set with washers.
Ground elements are also vital in the protection of children around the playground. A blacktop or asphalt playground surface is obviously unforgiving and a fall's impact can range from a scraped knee to something as serious as broken bones. Mulch is more forgiving but is quickly moved away from high traffic areas by use and can also poke or leave splinters in a fall. Mulch's small pieces can also float and wash out during heavy rain. Sand will be tracked inside constantly and is difficult for children to move on. As an alternative to these methods, Foam Factory offers closed-cell gym rubber and neoprene foam sheets, as well as in interlocking tile forms to provide soft and safe playground mats.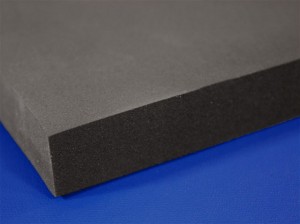 Both materials are excellent shock and impact absorbers, while providing enough firmness for children to run and move without sacrificing balance. These moisture resistant products are available in solid thicknesses up to 2 inches and Foam Factory can also laminate sheets together for greater sizes. Outdoor foam sheets are excellent to put under swings where the ground gets compacted by constant use and also at the bottom of slides, where children hit the ground at high speeds. With their manufacturing capabilities, Foam Factory is able to produce interlocking tiles that can be added or removed for a custom space or used to form padding for irregularly shaped areas. When given precise dimensions and measurements, Foam Factory can even create cutouts in certain tiles using their computer controlled waterjet cutter to make fitting pads around support poles and other foundations easy. This foam padding can practically eliminate skinned knees and scraped elbows and greatly reduce the potential of injury from falls because of their cushioned structure.
Playgrounds and activity sets are great ways for kids to enjoy themselves while developing and growing. And with a little precaution and preparation, using Foam Factory's padding materials and manufacturing capabilities, they can be made to be very safe as well.
Note: Foam Factory, Inc. will not have any liability to anyone for incidental or consequential damages or any other liability, injury, loss or damage arising out of or related to our products, even if Foam Factory or an authorized representative of Foam Factory has been advised of the possibility of such damages.