Card and poker nights among friends and family have been popular for generations, and as these games become bigger parts of people's lives, the tables on which games are played grow in importance as well. Homemade poker and card tables are a creative way to tailor your playing surface to the size of your group or add a touch of personalization. No matter how you're looking to expand your hobby, Foam Factory, Inc. can provide the foam materials necessary to place your homemade card table on par with the finest in Las Vegas.
Something few people other than table game fans are aware of is that card tables are not constructed solely out of wood wrapped in playing fabric. Proper card tables contain a table pad foam layer between the wood and the fabric surface, which serves multiple purposes. The most obvious is that the thin sheet of foam table padding softens the table and helps keep chips from bouncing away, making noise, or even chipping the table. The foam's give also allows cards to be slid under one another more easily in games like blackjack.
It takes a special type of foam to perform all of these roles, and polyethylene roll foam is the Foam Factory product perfect for the job. A closed-cell foam, polyethylene roll is resilient and will not break down over time or allow wear or grooves to form in heavily used areas. Polyethylene roll table foam also will not absorb any moisture present on the table's surface, preserving the wood base of the table and making cleaning spills easier. An open-cell foam will absorb and hold fluid like a sponge, making it difficult to clean and susceptible to mold and mildew. Foam Factory offers 60 inch wide sections of polyethylene roll that can be ordered by the lineal foot or in 50 or 100 foot rolls if many tables are being made. This 2 pound density waterproof pad is available in the preferred 1/8 inch thickness, the also popular 1/4 and 3/8 inch thicknesses and more.
The other, more obvious application of a pad in poker tables is in the railing that runs along the edge of the table. Frequently encased in vinyl, these railings provide a soft cushion for the arms during play and also help contain chips and cards. Cutouts can even be made to serve as cup holders. This rail foam needs to be made of resilient and durable foam to hold up to direct pressure in the same area over the course of many games, while staying soft enough to provide a comfortable cushion. The type of foam used in rail padding is thicker than what is used on the table surface and Foam Factory has multiple options, both open and closed-cell, for padding the elbow cushion area of your card table.
Lux High Quality is a firm and resilient open-cell foam often used in seating cushions and high-end bedding. It can support the weight and pressure of players leaning on it and return to shape game after game. Lux HQ is available in the usual rail padding thicknesses of 1/2 and 1 inch and in full sheets measuring 82 by 76 inches, half sheets 82 inches long by 36 wide, and third sheets 82 long by 24 inches in width. For closed-cell durability and moisture resistance in custom table pads, Foam Factory offers gymnastic rubber, which can be cut to thicknesses of 1/8, 1/4, 3/8, and 1 inch for the right balance of firmness and cushion for you and your fellow card players. Full sheets run 96 by 48 inches, with rectangular half sheets 96 by 24 inches, and square half sheets 48 by 48 inches. For an economical option, open-cell poly foam can also be used for a balance of cushion and support, starting at thicknesses of 1/4 inch. 1 inch thickness is only a suggested size for most tables and Foam Factory has solid sheets of foam as thick as 2 inches for gymnastic rubber and up to 8 inches for Lux HQ and poly, with the ability to laminate sheets together for any desired thickness greater than those.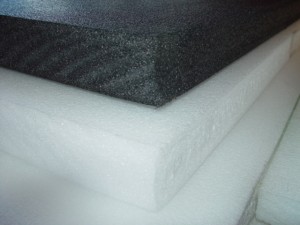 In addition to card table components, Foam Factory is also able to manufacture custom pool table covers that can slide inside of the bumpers or rest on top of the entire table. These help protect against debris, accidents, and spills when the table is not in use. Made of polyethylene foam as thin as 1/4 of an inch and able to be customized to any thickness greater than that, full sheets can be trimmed down from their original 48 by 108 inch size, ensuring coverage of practically any table. These shock absorbing forms have the option to be covered with black vinyl to provide an attractive surface that is much easier to clean than the fabric of the pool table. These covers can be constructed as solid pieces or made into flexible sections connected at the seams when covered, able to be folded and stored when not in use. Foam Factory products can also be used to replace a worn out basement bar stool cushion.
So, if you're looking to build a game table, protect one, or even rebuild or refurbish an existing one, Foam Factory has the materials and resources to make your game nights a royal flush.