Here at Foam Factory, Inc., we offer many products that can help you over-deliver on a DIY project while staying under budget. From couch cushions, to organization methods, foam products can make your life easier, more comfortable, and more enjoyable. Lately, Foam Factory has seen an increase in a particular DIY project, and felt acknowledging it would benefit the visitors of our blog and Web site.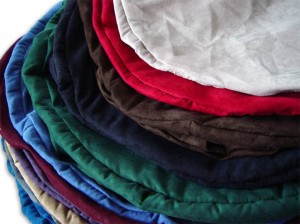 Homemade beanbag chairs and foam sacks have been growing in popularity recently, as people begin to tread farther off the beaten DIY project path. Whether they're for a child's bedroom, a school's playroom, or a family's theater or game room, beanbags built to suit your preferences and style can give you comfort and satisfaction in ways few other pieces of furniture are able to. And for people who want those benefits without the hassle and markups of big-box stores, DIY foam sacks offer a terrific solution.
The size of beanbags is what stifles many attempts to build or repair them, because sourcing materials in the quantities necessary can quickly turn a simple project into a costly one. Just finding enough foam stuffing to fill a 6', 5', or even a 4' beanbag can be a headache, without even touching on how cost-ineffective purchasing small bundles of material becomes. The key is finding a retailer who offers affordable bulk orders while maintaining a retail side to their business, so individuals can place large, one-time material orders. Fortunately, this is Foam Factory's specialty.
With nearly 100,000 square feet of warehouse space, and bulk orders leaving their doors daily, Foam Factory maintains a level of business that allows them to accommodate individual customers' requests while keeping prices affordable. Foam Factory offers four different shredded foam types in bulk sizes that are perfect for a DIY beanbag, re-filling, or firming up existing beanbags.
Conventional shredded foam and charcoal foam are sold in 36" x 36" x 48" sacks, weighing approximately 30LB apiece, while 4LB density shredded memory foam is sold in 18" x 18" x 72" sacks which weigh about 15LB. The conventional shredded foam is also sold in the 18" x 18" x 72" size, weighing approximately 8LB. In addition to these plush open-cell foams, Foam Factory also offers shredded polystyrene foam, the filling classically associated with beanbags, in a 12" x 12" x 65" sack, weighing around 6LB. These foam types all offer their own set of benefits: the temperature-sensitive contouring of memory foam, the plush cushioning of conventional and charcoal foam, and the firm resilience of polystyrene. No matter your comfort preferences, one of these foam types will give you the perfect DIY foam sack chair.
For most people building their own beanbag chairs, acquiring the stuffing material is the hardest part of the equation. However, some individuals may not have the confidence in their sewing skills to create something durable enough to hold up in the long-term. Others may have a perfectly comfy beanbag, but over time the cover has been stained or damaged. For those looking for the perfect cover to their DIY beanbag, Foam Factory offers completely customizable foam sack covers, in vibrant colors with terrific quality.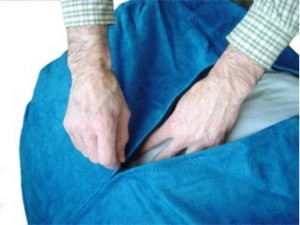 Proudly hand-sewn in Foam Factory's shop, each of Foam Factory's beanbag covers is made to last for years and look great doing it. Made of luxurious and soft passion suede, beanbag covers are available in 12 colors and 6 standard sizes: 3' and 4' round shapes, and 5', 6', 7', and 8' rectangular shapes. Each cover features a heavy-duty zipper covered by protective flaps to keep the user comfy and the beanbag chair attractive.
In addition to their standard offerings, Foam Factory will custom-make covers in many non-standard shapes and sizes for a special order. And for people who aren't crazy about passion suede, Foam Factory also has 100 percent cotton twill fabric in eight rich colors that can also be made into a custom cover. For people who have the foam filling and the outside cover taken care, Foam Factory even offers pre-made black twill inner-liners in their six standard sizes. These allow you to remove outer covers for periodic laundering without having to deal with the hassle and mess of loose foam filling everywhere.
Ultimately, Foam Factory can accommodate your beanbag needs no matter what they are. Whether you're looking to build a completely customized beanbag chair, or you only require a single beanbag or foam sack component, you needn't look further than Foam Factory.
In addition to their individual beanbag chair components, Foam Factory also sells complete, ready-to-use foam sacks, able to be shipped right to your door. You can see them Here.