When shopping for a memory foam mattress, one of the most important characteristics to consider is density. Memory foam density refers to how much one cubic foot of the material weighs, and is typically expressed in pounds (for example, 3lb memory foam, 4lb memory foam, etc.). This density rating tells you how firm you can expect your memory foam mattress to be.
These days consumers can choose from low, medium, and high density memory foam mattresses. Let's take a closer look at each type.
Low density memory foam
Memory foam mattresses rated 3lb or less are considered to be low density. When you purchase a 3lb memory foam mattress, you can expect to receive a relatively soft mattress that your body will sink into. Low density memory foam mattresses provide a minimum amount of targeted support for joints and other pinch points, and are therefore best suited to people that desire a comfortable sleep experience over the easing of aches and pains. You can also expect low density memory foam to be wallet friendly.
Medium density memory foam
Memory foam mattresses rated 4lb or 5lb fall into the medium density foam category. Consumers seeking an ideal blend of firm support and comfort would do well to purchase a medium density memory foam mattress. Both 4lb and 5lb memory foam provide contoured support for the shoulders, hips, and knees, while still having enough "give" to cradle the body for a restful night's sleep. And while more expensive than low density memory foam, medium density memory foam mattresses still offer excellent price-to-performance value.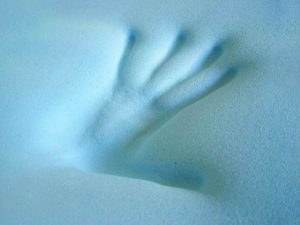 High density memory foam
Mattresses rated 6lb or more are classed as high density memory foam. High density memory foam is mostly used as an orthopedic aid for people suffering from chronic medical problems or persistent injuries. High density memory foam offers the very best in comfort and support, and this is reflected in the price. You can expect to pay top dollar for any high density memory foam mattress you buy.
When shopping for a memory foam mattress online, keep these general guidelines in mind to help you choose the foam density best suited to your sleep preferences and needs.