When it comes to discussing density, it is important to note that this measurement is different than firmness, and the two terms do not always coincide with each other. Memory foam density refers to how much one cubic foot of the material weighs, and is typically expressed in pounds (for example, 3lb memory foam, 4lb memory foam, etc.). This measurement will tell you the quality of the foam, but will not tell you how firm the foam is.
Many people believe that a higher density foam will be firmer, but that is not always the case. With memory foam from Foam Factory, Inc, as the density goes up, the firmness will actually seem to go down. The 5lb memory foam is our softest, whereas the 3lb will feel the firmest. Keep in mind that the thicker you go on our memory foam, the softer it will feel, too! This is because there is more material to sink into before feeling the mattress underneath.
3lb ViscoSAVER – White
This is the most budget-friendly option, but it is not poor quality by any means. The feel of this foam is considered firm by Foam Factory's memory foam standards, but it is not hard in any way. It actually has a medium feel because of it offers the nice, slow, comfortable give that memory foam is known for, but it lacks the contouring ability. Since it does not contour like denser memory foams, it will not form around you as you lay on it. This is a good option for those seeking comfort, but who do not enjoy the "hugging" feel that denser memory foams offer.
4lb ViscoPLUSH – Blue
This is our middle-ground topper. This foam will feel softer than the 3lb, and will offer contouring. This foam will curve and shape to your body, but it will not hug you like a "perfect fit". It will still offer a slow give, but with additional softness as you sink into the material.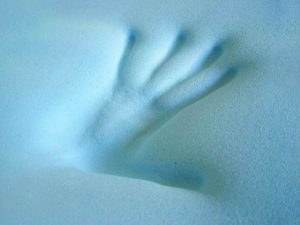 5lb ViscoMAX – Pink
This is the softest memory foam topper that Foam Factory carries. This foam is often described as a giant marshmallow! It is so plush that it contours to your body and fully hugs you as you lay on it. It will fit your body like a glove. It is designed for the sleeper to fully sink and be nested by the topper.
When shopping for a memory foam mattress from Foam Factory, Inc, keep these general guidelines in mind. Most importantly, when seeking a high quality, longer lasting memory topper, higher density is better. If you are seeking memory foam from us with a firmer feel, though, less dense is MORE firm and denser is SOFTER.
If you need even further assistance in picking the right topper for you, Foam Factory is here to help!