Have you ever placed an order for custom-cut foam sheets, but you didn't end up using them all? Before you toss the extras in the trash, let us explain why you should keep them! Sheets of foam are extremely versatile products, so there are many ways that they can be recycled and reused for different purposes. In this post, we'll show you how to use your foam for crafting, packing, and storage. Instead of buying new foam craft sheets or foam packing sheets, we'll teach you how to use what you already have on hand. It's better for the environment and your wallet!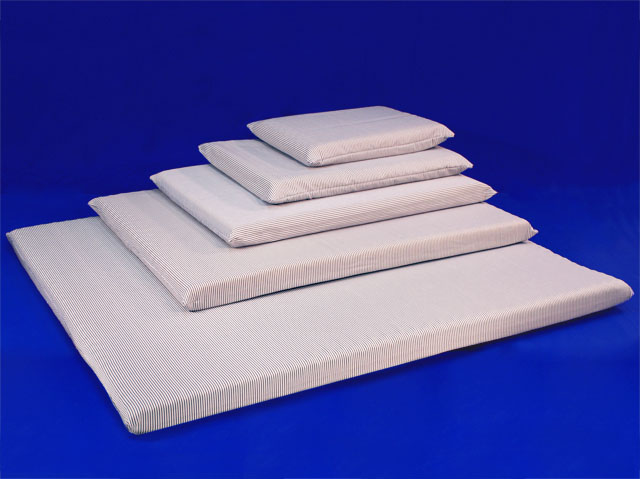 Using Foam Sheets for Crafts
You'd be surprised by how many different ways you can reuse your old sheets of foam when it comes to crafting. From foam Halloween haunted house decorations to DIY foam pool toys for summer , you can make just about anything! For now, here are a few unique ideas for using your upcycled foam craft sheets:
Tombstones or Haunted House Decor
The DIY foam Halloween haunted house blog post has tons of ideas for crafting with different types of foam. If you have spare sheets of foam you're wanting to reuse, they'd be perfect for making your own haunted house tombstones! You'll want to use a large polystyrene sheet for the base and trace the outline of a tombstone. Then you'll use a serrated knife to cut the foam. Draw any designs or details you want to add, and then carve them out as well. Carve out the details and spray paint the foam from multiple angles for maximum coverage. You can add finishing touches with acrylic paint, and you're done! Now you have creepy tombstones to create a graveyard for your haunted house.
Pool Scrabble and Pool Toys
Looking for a fun new game to play with the family? Get creative with some DIY foam pool toys for summer ! With this craft, you'll turn polyethylene sheets into large scrabble tiles. Start by measuring out as many evenly sized squares as possible (at least 6″ x 6″), and enough to double the alphabet (52 squares total). Leftover pieces can be used to create extra vowels or left as "blank" scrabble tiles. Next, start cutting the squares. After all of the squares are cut, take a permanent marker and write one letter of the alphabet on each square. You can write letters on both sides for more options. Let them dry for several hours (or overnight), then it's time to take your new scrabble tiles to the pool! Toss them into the water and swim after them to collect pieces to spell out a word. This game can be enjoyed by kids and adults of all ages. For more fun summer projects using different types of foam, check out the pool toys blog post!
How to Reuse Foam for Packing and Storage
Crafting isn't the only way you can repurpose your old sheets of foam. They're perfect for packing and storing delicate items, too! Because of its flexible and lightweight properties, a foam sheet makes a great alternative to other paper packing products. Since foam has a thin width, it's easy to maneuver it and wrap the sheet around a variety of items. Plus, since foam sheets are pre-cut, you can easily use them to pack fragile items such as dishes, glasses, picture frames, household decor, or electronics. Just place them in between stacked plates or dishes in your boxes – you can fit a lot in one box since the foam is so thin. You can even wrap the foam around the legs of your furniture to prevent damage during transport.
These DIY foam packing sheets can be used for household storage, too. You'll go about it in the same way you do for packing moving boxes – either place the sheets in between stacked items or wrap individual pieces with the flexible foam for extra protection. Sheets of foam will maintain their cushion and ability to absorb shock throughout many uses. This foam is super flexible and strong, so you don't have to worry about them tearing like some other packing materials. Plus, sheets are resistant to mildew, mold, rot, and bacteria. They're also thermal resistant and heat sealable. No matter what you're storing, you'll know it's going to stay protected and secure.
If you want more ideas or in-depth guides for foam crafting, go ahead and check out the Foam Factory, Inc. blog . We're consistently updating it with new posts on crafting with foam, so you're sure to come across a project you're interested in. We hope this post has convinced you to hold onto any sheets of foam you may come across. Whether you're getting into crafting, have a big move coming up, or just need a better way to store your fragile belongings, these sheets can be more helpful than you'd imagine.