With Halloween right around the corner, it's time to get serious and spooky with your home decorating. Give everyone a good fright by transforming your entire space into a memorable haunted house! Creating an eerie atmosphere doesn't have to be complicated or expensive. With these haunted house foam DIY decorations, you can skip the store and make your own scary Halloween pieces at home. Luckily, the versatility of foam allows you to make just about anything from basic signs to realistic 3D shapes and figures! With these scary foam haunted house ideas, you can create a chilling trick-or-treating experience for everyone in the neighborhood.
Foam DIYs for a Haunted House
1.) Ghosts: It's not Halloween without some spooky ghosts swaying in the wind. Whether you want to make your ghosts scary or cute, this foam DIY delivers on price and simplicity. First, you'll need some white muslin fabric or a cheesecloth which you'll cut into squares. Depending on your preference, the ghosts can range from small to quite large, so make sure you plan accordingly when purchasing the fabric. Next, you'll need some polystyrene foam balls for the head of your ghosts. Decide how large you want their heads to be, and designate one foam ball for each ghost. Gather the fabric around the foam ball, and tie it with ribbon or string. If you want your ghosts to have a face, you can get creative with googly eyes or draw your own expressions. For the final step, grab some fishing line or a discreet string to hang and display your spooky visitors in your haunted house!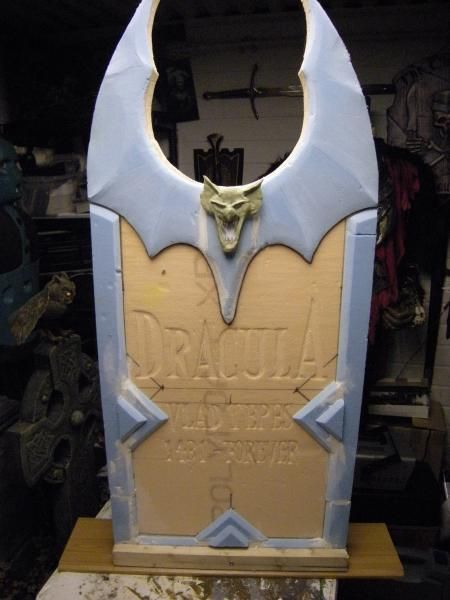 2.) Boxes: Boxes are some of the most versatile pieces for DIY decorating. Foam board allows you to make a variety of boxes in different shapes and sizes for any of your haunted house needs. Have someone in a scary costume jump out of a large box or conceal other hidden jump-scares. Stack boxes to structure the area or create the illusion of a staircase. The possibilities are endless, and boxes are highly customizable. Measure to find out the height, width, and depth of your desired box, and then slowly cut the foam board with a craft knife. Once you have five or six separate sides, assemble the box by hot gluing the edges together. Make sure the box has ample time to dry before it bears any weight. You can even make a mini replica of your haunted house out of a foam box! Follow the same steps to shape the walls and roof of the house, assemble it, and then decorate with paint, fake cobwebs, and other types of spooky decor.
3.) Spooky Frames: Adorn your haunted hallway with some sinister portraits complete with antiquated frames made from foam. In the same way a house isn't complete without a few photos on the wall, you'll need to enhance the walls of your haunted house with some creepy images of Halloween's scariest villains. All you need to do is layer foam board. Using a hot glue gun, stack and secure two identical shapes of different sizes on top of one another. Your frame can be rectangular, square, oval, or any other shape. Insert the desired photo, and voila! For a vintage feel, draw or cut out ornate embellishments and spray paint your frame silver or gold.
4.) Foam Skulls: Utilize your polystyrene balls with another easy Halloween DIY. All you'll need to make realistic foam skulls is a three to six-inch diameter polystyrene ball, pencil, knife, and some paint. Start by cutting a thin straight line along one side of your ball to give it a flat surface to rest on. Then, looking at a skull photo, outline the skull's shape and where you will need to cut. Carve into the foam skull to make the eye holes and cut a slightly shallower opening in the middle of the face for the nose. Next, form the mouth, carefully carving the teeth for extra detail. For the final step, paint your skull white, red, glow in the dark, or any color that fits in with the scheme of your haunted house. This affordable decoration can be replicated for an entire graveyard of skulls, or you can proudly display one or two.
5.) Tombstones: Create a creepy graveyard for your haunted house with DIY foam headstones. Use a large polystyrene sheet for your base and trace the outline of your tombstone. Choose from different shapes to give your graveyard some variation. Once you've traced your shapes, cut the foam with a serrated knife and draw any designs, sayings, or details to carve on the front of the headstone. Carefully carve the details and spray paint from multiple angles for maximum coverage. Add finishing touches with acrylic paint and scatter your tombstones in or around your haunted house for an ominous feel!
6.) Body Bags: Create the illusion of dead bodies lying or hanging around your haunted house. All you need is some large sheets of foam, trash bags, and duct tape. This DIY is great for people with excess foam lying around from other projects. Simply roll up the foam sheet and place it inside a large black trash bag. Wrap duct tape around the bag, and the final product will look like a corpse. For extra detail, place a foam wig head in the bag and tightly wrap the trash bag around the "body." If you want dangling bodies, attach a strong rope around the neck and hang the decoration from the ceiling.
7.) Creepy Head: Foam wig heads are also great for creating spooky Halloween villains. They provide a foundation with outlined facial features that can be decorated with paint, makeup, and other spooky details to bring your visions to life. Whether you want to produce a zombie, the Grim Reaper, or something else, the possibilities are endless with a plain foam head.
8.) Electric Chair: Build your own rendition of a popular Halloween prop. An electric chair can easily be made out of foam because of the material's versatility. Custom-cut foam sheets to the desired specifications and carve out any intricate details that will make your chair more realistic. Stack and glue the foam together in the desired shape of the chair to build your own or mold the foam around an existing chair. Try adding fiberfill wrap to your electric chair to create a fuller look. Unlike an actual electric chair, this DIY foam decoration has the bonus of comfort!
Be prepared this October 31st with the spookiest foam DIYs for your haunted house! From ghosts to body bags, your friends and neighbors are sure to leave your haunted house with a classic Halloween fright.