With versatility that makes it the perfect product for a multitude of projects, polyethylene is one of the most utilized but least recognized foam materials on the market. While polystyrene is known for its use in cups and insulation and the soft, and squishy feel of polyurethane foam is something everyone is familiar with, polyethylene is often a forgotten material. But from packaging and flotation devices, to masonry supplies and shock absorbers, it's hard at work around us every day, whether or not we realize it.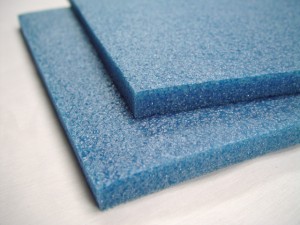 Polyethylene is closed-cell foam, meaning its structure is made of millions of tiny bubbles, sealed off from each other. This provides a resistance to water, in addition to a strength and rigidity not present in open-cell foams. It is also resistant to solvents, petroleum products, and is antimicrobial as well, inhibiting the growth of mold, mildew, and bacteria. A resilient material, polyethylene returns to form after compression, while still yielding enough to provide cushion and security where it is needed. It is these characteristics, combined with its versatility and customization possibilities, that make it useful in so many applications.
Formed from the heating of polymer compounds, polyethylene foam is able to receive additives to its formula to alter its properties before it is heated and extruded into its solid-state form. This means in addition to the standard polyethylene sheet foam, there are also anti-static varieties of the product. Anti-static properties assist in the packaging, handling, and transportation of delicate electronics, by dissipating electro-static charges that can build and damage components. With additives included in the formula, features are consistent all the way through the material, as opposed to treatments added after the foam has been created. Like other foams, it is also available in varying densities for different applications. The higher the density of polyethylene, the smaller and/or thicker the cell walls are, creating a stronger material.
In addition to the performance characteristics polyethylene can possess, the material is also available in multiple shapes and sizes. Most commonly seen in sheet or plank form, polyethylene has a rigidity that holds its shape when cut into thick sections. These are most often used as insulating materials or in casing and custom packaging, because, while strong and shock absorbing, polyethylene can also be easily cut to create form-fit inserts for securely moving or transporting items. Closed-cell foam insulation is excellent at resisting moisture and polyethylene in particular is often used as thermal insulation materials. Polyethylene sheeting is also easily laminated together to create thicker sections that can then be cut for furniture inserts, personal flotation device inserts, or specialized packaging. Also, backer rod polyethylene tube is made in an assortment of diameters for varied use.
Rolls of polyethylene are made of very thin sheets of material. This flexibility allows it to be used as insulation wrapped around pipes, seals between foundations, and sill plates in buildings or in the creation of pouches or bags to protect goods while minimizing space and weight. Potentially the most recognizable style of polyethylene is its cylinder form because of its presence every summer as noodle water toys. In different sizes, these cylinders can also be used as bolsters and support products for personal comfort. When manufactured on a much smaller scale, continuous-length polyethylene tubes are used in construction as backer rod between concrete slabs. The water resistant foam backer rod forms a cost-effective filler, reducing how much expensive sealing product is needed, while permitting a degree of flex between the two slabs by not allowing a three-way bond to be formed. Backing rod permits expansion and contraction due to weather and temperature changes.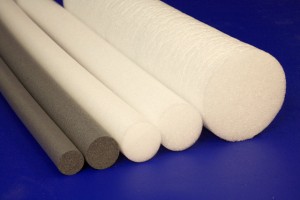 Similar to how the performance additives for anti-static characteristics are added, so too are dyes which give color to polyethylene used in visual applications or for personal customization of a project. Polyethylene foams are most commonly seen in black, white, and blue, as well as pink anti-static foam, with other colors also available.
Even polyethylene's molecular compounds can be customized, with both physically cross-linked and chemically cross-linked polyethylene versions existing, featuring slightly different characteristics. The biggest difference between the two is that chemically cross-linked foams have their bonds forced through externalities like heat or pressure, while physically cross-linked products bond naturally. This results in more versatility because it is easier to break and re-form a physically cross-linked material, but it also lacks the extra strength and durability of chemically cross-linked foam.
The spectrum of uses for polyethylene makes it one of the most versatile foam products in existence. The range of densities, formulations and styles are substantial on their own, and with multiple uses for each variation, the possibilities for this unique product are incredibly broad. Whether for personal or professional use in large or short-run production, there is a polyethylene product that will perform up to any standard it will be measured against.