With the fourth entry in our series on getting the most out of your mattress, we tell you why giving support is just as important as receiving it, as well as why you shouldn't be sleeping on the floor – since, after all, you own a bed!
Previous posts:
Part I – Keeping Your Mattress Dry
EPart II – Keeping Your Mattress Covered
Part III – Using Your Mattress Like a Mattress
—
Tip #4: Support Your Mattress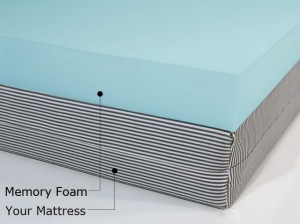 Just as you need support from your mattress, your mattress also requires support from you. Whether it is in the form of a box spring, bed slats or a platform frame, the right support system for your mattress will ensure that it retains the support qualities you need for years to come.
The pressure and weight that a mattress withstands everyday means that it too needs to be properly supported to be able to maintain its structural qualities over its lifetime. A bed that is poorly supported can bow and sag under the weight of its occupants and that will eventually affect your sleep. A mattress, even supported with a box spring, should have support running not only around the edge of the frame but across the body of the mattress. Many types of bedding can make do with head, foot and midsection cross-supports. Frames and supports are especially important in heavier innerspring mattresses, ones without box springs or a thick foam mattress where the weight of the product alone can cause bowing, even without a sleeper. The box spring reduces the forces a mattress must endure by absorbing and dissipating some of the pressure created by movement.
Even if you prefer a bed lower to the ground, physically keeping it off the floor is important as well. One of the most obvious reasons is that the farther you are from the dust and dirt on your floor and carpeting, the better your air quality is while sleeping. An elevated support system also makes it harder for vermin or insects that may be present in your living complex to access you and your mattress. While that isn't a pleasant thought, it's a reality in some places. Another benefit of a mattress support system that many don't realize until it's too late deals with, again, moisture.
As stated in Tip #1, moisture and condensation from your body and the air in the room can be harbored by a mattress. This can be combated by a bed frame or slatted frame system that allows airflow under your bed. Individuals who have placed mattresses directly on the floor have gone to move or flip them only to find a collection of mold or mildew growing on the mattress, a result of moisture not having the opportunity to evaporate. In some homes, moisture can even be drawn out of the floor itself if the mattress is not placed on a support system that allows ventilation. For obvious health reasons, those mattresses are ruined. Supporting your mattress with a frame, even a low one that raises it slightly and allows air flow can help prevent your bed from retaining moisture and essentially rotting from the inside out. And we wouldn't want that now, would we?
Here is the final post in our "Extending the Life of Your Mattress" series:
Part V – Being Gentle With Your Mattress