The second entry in our five-part series aimed at extending the life of your mattress deals with the benefit of covers –not for you, but for your mattress.
For the first post in this series, click here:
Extending the Life of Your Mattress: Part I – Keeping Your Mattress Dry
—
Tip #2: Keep Your Mattress Covered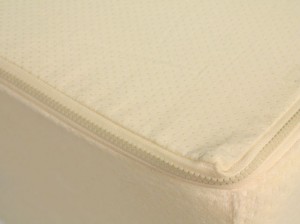 This may sound like a blatantly obvious tip, as very few people would even consider sleeping on a bare mattress, let alone actually do it. But while pretty much everyone with a bed uses sheets and covers, there are actually a couple additional kinds of covering materials that can help protect your mattress and keep it in top shape.
The more common of the two is a light mattress pad or mattress cover. These come in a wide range of styles and materials, from the most basic cotton pad with elastic edging to keep it in place, to padded comfort covers that snugly zip around the mattress. If not purchased for the benefit of comfort, at the very least these pads serve as an extra layer of protection between your body and the mattress. Often made of soft, absorbent materials, pads can guard against staining and damage from body moisture and spills. They are removable for periodic washing as well, helping you keep your bed fresh. Stains will, in most cases, void the warranty on a mattress, so keeping it clean is important should manufacturer defects arise.
The other, less-used type of mattress cover is a waterproof, hypoallergenic cover. Usually made of vinyl or similar materials, these covers are often purchased for very young children to protect a mattress against accidents. However, these covers can provide provide benefits to people of any age. The most obvious is that they are an excellent guard against moisture, keeping your mattress dry and protected. The other benefit of these types of covers is the resistance to allergens they provide. When made with tight, non-permeable materials and properly seamed and zippered, these covers can keep dust mites from gaining access to your mattress. Dust and other particles also will not get into the mattress, so for allergy sufferers, these are an excellent way to keep your mattress free of irritants. Given the way mattresses are built, once dust or mites are inside the mattress, chances are you won't be getting them out.
Some people may find these covers to be slightly warmer than a mattress without one, but in combination with a fabric mattress pad and your sheets, potential temperature issues can be reduced or negated. Thicker materials will also be quieter than thinner, flimsier cases. As of late, more types of mattress pads are being introduced that combine the comfort of the soft fabric pads with the hypoallergenic qualities of the vinyl pads. It is also important to regularly wash all your bedding and linens as well. Luckily, it's a lot easier to wash a couple sheets than a whole mattress, so we would say it's a fair trade-off.
Either way, these covers shouldn't be viewed as something only for children or the incontinent. The benefits they provide greatly protect your health as well as your investment. Whether you want to keep your mattress fresh, make it a little softer, or if you have allergy issues, identifying what your needs are is the best way to pick a bed pad that's right for you and your mattress.
For the next posts in our series, click here:
Extending the Life of Your Mattress: Part III – Using Your Mattress Like a Mattress
Extending the Life of Your Mattress: Part IV – Supporting Your Mattress
Extending the Life of Your Mattress: Part V – Being Gentle With Your Mattress