Back pain is a real issue for millions of people, be it due to injuries, work, or medical reasons. With the desk jobs so many have, that discomfort is often exacerbated or even caused by their seats and posture, as they type and click away all day.
While activity and exercise is often the best remedy for some of these problems, it doesn't eliminate the fact that we still have work to do at those desks. In situations where people have workstations that don't offer optimum ergonomics, or have discomfort caused by myriad other reasons, back bolsters can be a saving grace.
Our backs naturally form an S-shape, extending out at the shoulders and tapering in around the small of the back. Poor posture and less-than-ideal seating can encourage misalignment, which stresses muscles and can put pressure on the spine, top to bottom. And as many people who experience back problems know, these issues can radiate throughout the body, in a sort of trickle-down effect.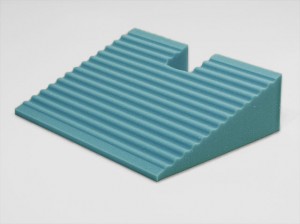 One of the most common methods for improving posture is to constantly be aware of how you're sitting, and mindfully stay in that position until it works its way into your muscle memory. The problem with this strategy is that we are often used to having poor posture, which we then revert to when we need to focus on something other than how straight we're sitting. It's not reasonable to expect somebody to be able to dedicate themselves to constant self-awareness while also expecting productivity in other areas.
But with soft foam back bolsters, you have a pillow that gently forms a corrective posture for you. This allows you to focus on what you need to, while conditioning your body to being used to proper posture.
Back pillows encompass a wide variety of products, from short, oval bolsters, to tapered, wedge-style pillows, to orthopedic cushions you sit on that force your body into alignment. Foam Factory manufactures all of these styles and more, perfect for somebody looking for extra support and relief.
The most basic back cushions are the oval bolsters: tubular forms that can be placed between a chair and the small of the back to help maintain the curvature of the spine. Available in 5LB ViscoMAX memory foam for a more gentle, contoured support, and poly foam for a stronger presence, these are light and can be taken with you for continued back support while relaxing at home, or stowed away at the end of the workday. These are available in three different sizes depending on your needs, and by being ovals, are less likely to roll out of position like a true cylinder may.
Wedges are another versatile product that can be implemented to support your back. Made in a variety of thicknesses and angles, a wedge's widest point goes under the small of the back and tapers up toward the shoulders. Foam Factory offers these in a variety of foam types, from Dunlop latex foam, to a poly foam all-purpose wedge. These can also be used for alignment as seating cushions. Softer varieties cushion a seat, while the incline at the back of the seat helps users sit up straight.
Foam Factory even offers an ultra-durable Lux High Quality ridged orthopedic cushion that help provide the posture-straightening boost of a wedge in a firm foam that keeps you stable and supported. Additionally, it features a tailbone cutout along the back edge, ensuring your change in posture won't be at the detriment of your comfort in a different way.
Of course, if you are experiencing pain and discomfort, your first step should be to see medical professionals to determine the source of your problem. But if it is a result of something as innocuous as posture and poor ergonomics throughout your day, foam bolsters and support products can make a big difference, and Foam Factory is happy to provide that relief.