Medical Body Wedge - Burgundy Foam
BW_BUR

Medical Body Wedge - Burgundy Foam
BW_BUR
Features
Designed for use while reclining or lying down, body wedges add support to the back or legs, providing elevation to either end of the body. Wedges are excellent for improving circulation and boosting your posture while watching TV, reading, or sleeping. Whether you are looking for a way to relieve discomfort like back pain, or just want a new form of support, body wedges are available in a size right for you!
Standard Size: 24" x 24"
Cover Options:
Select from the Dropdown Menu
Removable Twill Zippered Cover - 100% Cotton

Removable Suede Zippered Cover - 100% Pure Micro Polyester Fiber*
Both available in numerous colors.
*NOTE: Suede cover not available for 18" Body Wedge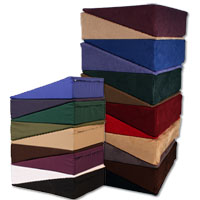 Resources