Whether you're on the road every week or once in a blue moon, transporting your instrument is an important task that needs to be done with care. The frequent travel that can accompany a musician's life takes its toll on instruments if they're not appropriately protected during transport.
Cases with musical equipment like microphones, guitars, keyboards, and other gear are great for protecting from spills, scratches, and general damage that may occur in the studio. During transportation, however, equipment is likely to shift and bang around. The hard shell of a guitar case does little to prevent the instrument inside from moving around and potentially contracting significant damage. As you transfer equipment into vehicles and move between venues, a little bit of banging around is inevitable. Protecting your expensive equipment is essential, so you aren't faced with surprises when you're ready to play.
Microphones are an excellent example of stage equipment requiring protection during transport. They will often benefit from foam case inserts. Since they rarely come with any type of casing, you may be left carrying around cardboard boxes that can be prone to damage and breaking down. Fortunately, foam inserts protect musical equipment from excess movement and potential damage, so you can stress less on travel days and focus on the joys of playing music!
How Does a Custom Foam Case Insert Work to Protect Instruments?
Some cases are sold with the foam already intact to fit your instrument. If you wish to add foam to an existing case or box, there are two primary ways to do so. You can either do it yourself or go to a company that offers custom cutting, like Foam Factory, and allow them to do it for you!
Option 1 – DIY: Whether you want to spend more on the product and less on the labor, or you just want to learn something new, DIY might be the way to go! With a bit of measuring, sheets of packaging foam can be cut gently with a serrated knife into the shape of whatever item will be encased. Another DIY method is Charcoal Pick and Pull Grid . With Pick and Pull, a knife is not required, because these perforated sheets allow you to easily separate ½-inch squares with your hands for simple, customizable protection! The variety of sizes and thicknesses we offer means you can easily tackle any project.
* DIY Pro Tip: When making your foam insert, cut the opening in the foam smaller so the instrument fits snugly and won't shift during transport.
Option 2 – Custom Cutting Service: Not everyone can make perfect cuts on their first try. At Foam Factory, we offer custom foam packaging for those who may not be comfortable committing to a DIY foam case. Our professionals will make clean cuts for a snug fit, ensuring your equipment will stay put during transport. Custom cutting allows you to place multiple things in one case, limiting the number of items you have to haul.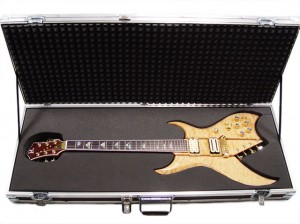 What Type of Foam Works Best for Instruments?
Not only is musical equipment expensive, but it's also tends to be sentimentally valuable. Musicians form bonds with their instruments, and it's crucial to ensure your equipment is safe. Stringed and wind instruments are sensitive to water damage, mold, and mildew, while electrical instruments and equipment are at risk for static damage. Certain foam types may better suit your equipment's needs depending on the type of gear you plan to transport.
Polyurethane Charcoal Foam: This is one of the most popular foam types used for insulating musical instruments because of its shock absorption qualities and ability to protect delicate mechanisms. Even the smallest parts of your instrument can play a massive role in its functioning, so it's essential to find a foam that can protect them. Since it is such a popular choice among musicians, this foam is available in many options, including solid sheets, egg crate, and pick and pull. You can also have polyurethane charcoal foam custom cut by us here at Foam Factory to suit your needs.
Pink Anti Static Foam: For your electronic equipment like microphones, circuit boards, electric guitars, and more, you may want to consider using an anti-static foam. Its properties allow the foam to dissipate electrostatic charges. Over time, excessive electrostatic charge can cause damage to the equipment, so investing in pink anti-static foam could increase the longevity of your equipment.If you're tired of stressing about your instruments and equipment on the road, it's time to protect your instruments with some quality foam to keep them safe during transport. Contact Us at Foam Factory today for assistance or any questions you may have regarding our custom cutting services!