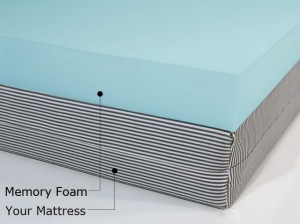 Like virtually all synthetic materials, memory foam mattress toppers will eventually wear out, lose their unique body molding and support capabilities, and have to be replaced. Since the lifespan of these products depends on a variety of factors, including the quality and density of the foam, general maintenance practices, and even the BMI of the primary users, it's impossible to state with certainty how long your mattress topper will last. But to give you a ballpark estimate, at FoamByMail we back our 4 lb. density memory foam mattress toppers for seven years against defects and significant body impressions of 1-1/2 inches or more, while our 5 lb. density memory foam mattress toppers come with a 10-year warranty.

So let's suppose you've enjoyed your FoamByMail memory foam mattress topper for a decade now and wish to replace it with a new one from our current lineup. Or say you're getting rid of a low quality purchase from another company. What should you do with the old mattress topper? You can either take it to a recycling center that accepts memory foam products or try repurposing your mattress topper in one of the following ways:
As a custom dog or cat bed that provides support for joints as well as overall comfort (especially appreciated by senior pets)
As seat cushions for everything ranging from patio furniture to wheelchairs
As a bed pillow for neck and shoulder support or as a body pillow to relieve pressure on the knees and hips
As throws, bolsters, and other decorative accent pillows for the living room or family room
As a topper for ottomans or footrests
As a lumbar support pillow for desk chairs or vehicles
As stuffing for children's toys or beanbag chairs
As new cushions for an old sofa or love seat
As pads for use under sleeping bags when camping
These are just a few fun and easy ways that you can put your old foam memory mattress topper to good use when you're ready to buy a new one. If you have other ideas, feel free to let us know!