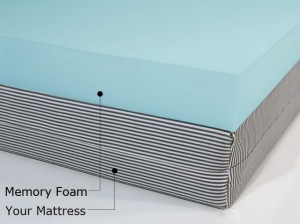 Like virtually all synthetic materials, memory foam mattress toppers will eventually wear out, lose their unique body molding and support capabilities, and have to be replaced. Since the lifespan of foam mattress toppers depends on a variety of factors, including the quality and density of the foam, general maintenance practices, and even the BMI of the primary users, it's impossible to state with certainty how long your memory foam topper will last. But to give you a ballpark estimate, at FoamByMail, we back our 4 lb. density memory foam toppers for seven years against defects and significant body impressions of 1-1/2 inches or more. Additionally, our 5 lb. density mattress toppers come with a 10-year warranty.
But let's suppose you've enjoyed your FoamByMail memory foam mattress topper for a decade now and wish to replace it with a new one from our current lineup. Or say you're getting rid of a low-quality purchase from another company. What should you do with the old mattress topper? You can either take it to a recycling center that accepts memory foam products, or repurpose your mattress topper to give it new life. In this post, we're sharing 10 easy ways to reuse your old foam topper – from custom pet beds to cozy pillows, the possibilities are endless!
Custom Pet Bed
Crafting a custom pet bed using old memory foam mattress toppers is a thoughtful way to provide your furry companion with unmatched comfort and joint support, which is especially helpful for senior pets. Choose the right memory foam based on your pet's size and weight, and cut it to the desired shape. Then create a removable cover with durable, pet-friendly fabric for easy cleaning. Place your pet's favorite toy or blanket inside to make the space inviting, and you have your very own DIY pet bed! Your beloved pet will cherish their cozy retreat, and you'll be rewarded with the satisfaction of knowing you've provided them with a space filled with love.

Seat Cushion
Upgrade the comfort of your dining chairs, office chairs, patio furniture, wheelchairs, or car seats by crafting custom seat cushions from old memory foam mattress toppers. Simply cut the topper into the desired shape and size, and cover it with a fabric of your choice. This sustainable and budget-friendly DIY project transforms discarded toppers into cozy seating solutions, ensuring a more enjoyable and ergonomic sitting experience in various areas of your home or workspace.

Bed/Throw Pillows
Repurpose your old foam topper as a bed pillow for neck and shoulder support or a body pillow to relieve pressure on the knees and hips. By cutting the memory foam to the desired size, you can create custom pillows that offer exceptional support and comfort. Whether you repurpose your foam into bed pillows to enhance sleep quality or as throw pillows to accentuate your home decor, the memory foam filling will provide a luxurious and supportive cushioning experience.

Ottoman/Footrest Topper
Treat your feet to a touch of luxury with a DIY memory foam footrest. Simply cut the topper to your desired size and cover it with a soft, washable fabric to instantly transform these pieces into cozy, supportive surfaces for relaxation. The memory foam offers a soft yet resilient padding that molds to the contours of your feet, providing a soothing and plush experience. Whether you're unwinding after a long day or relaxing with a book, this footrest will cradle your feet in comfort.

Stuffing for Plush Toys
Children adore soft and cuddly plush toys, and old memory foam mattress toppers can be the perfect filling to create these cherished companions. Whether it's a teddy bear, a plush dinosaur, or any other cute creature, you can cut the memory foam into small pieces or shapes to stuff the toy's interior. Not only will this make the toy extra huggable, but it will also provide a more supportive and long-lasting stuffing compared to traditional fiberfill.

Beanbag Chairs
Beanbag chairs are loved for their flexible and comfortable seating experience, but over time, the filling may become flat and less supportive. Instead of purchasing new filling, repurpose an old memory foam mattress topper to refill the chairs. Cut the memory foam into small chunks and gradually add it to the beanbag until you achieve the desired level of comfort.

Playhouse/Fort
Children's imaginations know no bounds, and you can fuel their creativity by constructing a playhouse or fort with mattress toppers. By placing the memory foam pieces along the walls and flooring, you can create a soft and safe play space for kids to let their creativity run wild. Use the toppers to create a soft and safe environment where kids can explore their imaginations, play games, or have a little hideaway of their own.

Reading Nook
Indulge in your favorite books by crafting a cozy reading nook with your old mattress toppers. Use the topper as a base for a floor cushion or create a cushioned backrest to lean against while reading, and you'll be able to transform any corner of your home into the perfect reading retreat. Add some throw pillows, blankets, and soft lighting, and you'll have a serene space to enjoy your literary adventures.

Portable Travel Cushion
Long journeys can take a toll on your body, especially when you're sitting for extended periods. Using old foam mattress toppers, you can create a portable memory foam cushion for traveling, whether it's for airplanes, trains, or long car rides. Easily pack it in your carry-on or backpack, and you'll have a reliable comfort companion wherever you go.

Yoga/Exercise Mat
Exercise in comfort with a DIY yoga or exercise mat made from a memory foam mattress topper. Just cut the topper to your desired size and cover it with a durable, washable fabric. The memory foam will provide excellent support for your joints during workouts, and you can customize it with patterns or colors to suit your style.
Transform Your Old Memory Foam Toppers into Comfortable Creations
Memory foam toppers are not limited to the realm of sleep. Their support, and versatility can be harnessed for a multitude of DIY projects that cater to various aspects of life. From pampering your pets and elevating your reading nook, to enhancing outdoor furniture and nurturing creativity in children, a memory foam topper can unlock a world of possibilities. These are just a few fun and easy ways that you can put your old foam memory mattress topper to good use when you're ready to buy a new one. If you have other ideas, feel free to let us know! Learn more about Foam Density Range: Understanding and Applying Values in a previous post.