The benefits of exercise are well documented and widely touted by health fanatics and professionals alike. However, traditional exercise methods such as running or weightlifting may be difficult for some because of injuries, physical capabilities or access to exercise equipment. Fortunately, there are alternatives that offer low-impact and in-home exercises that save travel time and gym membership money. Whether you prefer traditional exercises or alternative methods, Foam Factory, Inc. offers a selection of foam products that serve as excellent exercise accessories for enhancing your workouts and improving your health.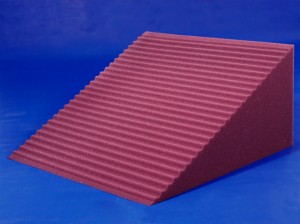 Adding foam exercise products to the simplest exercises can work muscles harder and access groups that may not have been reached using traditional methods. One of the easiest ways to maximize simple exercises is with a foam support body wedge. Available in heights of 6, 8, 10, 12, 14 and 16 inches, these medical foam wedges are firm enough to add a boost in angle to increase the productivity of a workout. Leaning against it or using it as a leg or body bolster can add a new dimension to abdominal, oblique, back and other core exercises. A support wedge can also be used to reduce angles for people who have difficulty with traditional exercises or a limited range of movement. Medical foam wedges have removable covers available in 100 percent cotton twill and 100 percent micro-fiber suede, both in numerous colors. Also available is a removable black vinyl cover that is easy to wipe down after workouts.
One great way to optimize a workout is with balance exercises. For people reluctant to invest in gym memberships or wary of falling off of an inflated balance ball, Foam Factory manufactures a high density foam roller out of resilient, closed-cell polyethylene that provides a safe, easy and cost-effective alternative. Available in a selection of diameters from 1-1/2 inches up to 6 inches and lengths of 17, 35 and 70 inches, these forms can be selected to fit any use. Firm enough to support weight without being uncomfortably hard, rollers can be used in various exercises like push-ups, sit-ups and crunches or as a yoga or Pilates foam roller.
When placed under the back, the angle of sit-ups and crunches is increased, with a greater range of motion working muscles more intensely. Rollers can be placed under the hands when performing pushups for forcing additional muscle tension through balance. These rollers can also be split down the middle, creating a semi-circle for those wanting balance tension with more stability. Other types of foam roller exercises can be performed with rollers under the legs, side or back. Foam rollers can also help perform a self-massage, stretching and relaxing muscles and tendons. By placing the roller on the ground and rolling body weight over it, it creates a targeted massage exactly where it's needed.
A cushioning, protective surface is an important part of exercise as well, allowing traction and support without unnecessary pressure placed on points of the body. Foam Factory manufactures numerous materials that excel as exercise flooring, whether on a large scale for filling an entire room or personal mats that can be rolled up and taken with you.
One of the most popular floor coverings for exercise is gymnastic rubber because of the stability and support it offers while protecting and cushioning users. A dense, shock absorbing material, this high density foam provides many beneficial qualities for exercise use. Durable and flexible, its vibration and shock absorbing qualities mean the movement and energy of one person on the matting will not affect another. It is moisture resistant and features a smooth outer skin that can easily be wiped down or cleaned after workouts for hygienic purposes. Gym rubber is available in sheet form for covering large spaces and may also be cut into interlocking tiles that can be constructed into temporary matting that is able to be made larger or smaller as needed and easily disassembled and stored when finished. This is particularly useful for facilities that utilize single rooms for multiple types of exercise classes.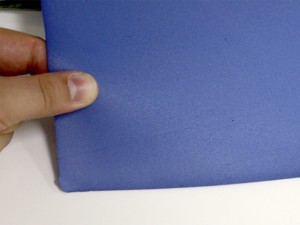 For personal use, Foam Factory also manufactures closed-cell exercise mats on a smaller scale in a variety of materials. Available in gymnastic rubber, cross-linked polyethylene (XLPE) and neoprene, these mats can be custom cut to any length, width or thickness desired. Excellent for Pilates and yoga, personal mats can be used by any individual looking to exercise on a softer surface without sacrificing stability. These can soften pressure points while doing sit-ups or crunches and provide a surface that won't slide during stretches or poses. Neoprene and gymnastic rubber are available as thin as 1/8 of an inch with XLPE as thin as 1/4 of an inch while in seven different colors. Like the gymnastic rubber, neoprene and XLPE are moisture resistant and easily wiped down and cleaned after use. They are also both durable, flexible materials that absorb shock well.
Given the proven benefits of exercise, staying active is worth the effort, no matter how you choose to do it. Whether you have injuries or health issues keeping you from particular exercises, are uncomfortable with certain workouts or are looking to optimize your current exercise regimen, Foam Factory's support, padding and safety products can help you get the most of your workouts.
Note: Foam Factory, Inc. will not have any liability to anyone for incidental or consequential damages or any other liability, injury, loss or damage arising out of or related to our products, even if Foam Factory or an authorized representative of Foam Factory has been advised of the possibility of such damages.