Saggy cushions not only make furniture look old and dated, but also turn armchairs, sofas, and love seats into uncomfortable eyesores that mar the aesthetic of your living room. Fortunately, it's possible to rescue furniture from this condition by replenishing or replacing the foam in worn or lifeless cushions on a DIY basis. Here's how to renew your saggy cushions for the new year: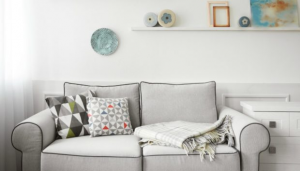 Tools & materials
Replacement foam cushion or shredded fiberfill (as needed)
Spray adhesive designed for use with foam products
Tape Measure
Cutting tool
Dacron batting
Scissors
Steps
Remove the cushion from its cover to determine whether you need to purchase a single piece of foam or shredded foam stuffing.
Measure the cushion at its widest and longest parts, and record the numbers so you can order a properly sized replacement from FoamByMail.com.
Once you receive the replacement foam, use the old cushion as a guide to help you cut the foam to the required dimensions. Note: an electric kitchen knife is an excellent tool for cutting foam.
Attach batting around the foam with the spray adhesive, and trim away any excess batting from the edges and corners. The batting helps give the cushion a fuller, rounder and plusher look. (The batting does not add thickness to the foam, so do not compensate for the size and thickness of the batting.)
Insert the new foam cushion into the cover and replace it on your chair, sofa, or love seat.
For fiberfill cushions, simply remove all traces of the old foam and refill the cover with new shredded Dacron polyester foam. Tip: overstuffing the cover will give the cushion extra loft and will improve longevity.
For best results, use only upholstery grade foam when replacing furniture cushions. Craft foams and some other types of foam are not suitable for use in furniture and will degrade very quickly.
Renewing your saggy furniture cushions as a DIY project is a surprisingly easy way to extend the life of your favorite armchair, sofa, or love seat. It's also far more affordable than sending the item out for professional repair or replacing the piece in its entirety, so try following these steps to help reclaim that fresh-off-the-showroom-floor look!