Comfortable seating plays a crucial role in creating a cozy and inviting space. While foam cushions are a popular choice due to their plush support and long-lasting durability, choosing the right cushion foam is key to achieving that relaxing oasis you're searching for. With so many options to choose from, how do you know where to begin? Well, that's where we come in! In this guide, we'll teach you everything you need to know about foam cushions. We'll review the different types available, DIY foam cushion replacement ideas, the benefits of adding layers, and maintenance tips to ensure your cushions stay in prime condition for years to come.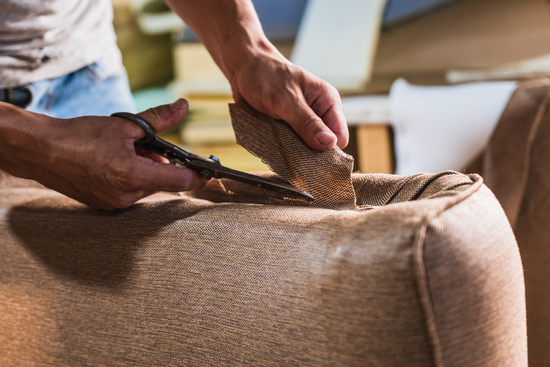 Exploring Foam Cushion Types
Here at Foam Factory, Inc, we offer an extensive array of foam cushion options to suit your seating needs. When searching for additional comfort and support, we have the cushion foam of your dreams – guaranteed! Below is an explanation of the foam type that we recommend for seats and cushions, polyurethane.

Polyurethane foam cushions are a popular choice for their excellent support, comfort, and durability. They provide personalized seating experiences by conforming to the body's contours and relieving pressure points. With diverse density options available, you can choose the level of cushioning that suits your preferences. These cushions are resilient, bouncing back to their original shape and maintaining their supportive properties over time. Whether you're looking for a plush feel or robust support, these offer a reliable solution for creating comfortable seating arrangements.
DIY Foam Cushion Replacement Ideas
Replacing your existing foam cushions is a cost-effective and practical solution for refreshing worn-out or uncomfortable pieces. Whether you're looking to revive a beloved piece of furniture or further customize your seating arrangement, there are several DIY cushion replacement ideas out there for you to consider. With a little creativity, you can easily replace your foam cushions and breathe new life into your seating space. Here are a few ideas/tips to help you get started:
Measure and Order Accurately: Accurate measurements are essential when ordering replacement foam cushions. Measure the length, width, and thickness of your existing cushions and select the appropriate foam size. Here at Foam Factory, Inc, we offer custom cutting services, ensuring you get a precise fit that's tailored to your needs.

Simple Cushion Replacements: For straightforward cushion replacement, remove the old cushion, clean the cover, and insert the new foam cushion. Ensure the new foam fits snugly within the cover, and zip it closed or secure it using the appropriate fasteners.

Create Layered Cushions: Another option is to layer different foam types to achieve your desired level of comfort. Combine firmer foam with softer foam layers to create a customized cushion that meets your specific needs.
If you'd like more in-depth instructions for DIY foam replacements, check out our blog. We have plenty of posts where we walk you through the whole process of replacing cushions on various types of furniture. Our DIY Office Chair Reupholstery post is just one of the many posts you'll find on the subject!
Adding Layers for Extra Softness and Protective Covers
On top of our DIY ideas, we have another tip for optimizing your space with extra comfortable cushions: layers! Adding layers to foam cushions offers a range of benefits that enhance both comfort and longevity. By layering different foam types, you can customize the cushion's feel to achieve your desired level of comfort. We also suggest using protective covers, which provide an extra layer of defense against spills, stains, and general wear and tear. Whether you're seeking additional softness or looking to prolong the lifespan of your foam cushions, incorporating these elements is a practical way to optimize your seating experience:
Dacron Wrapping: Dacron wrapping involves covering the foam cushion with a layer of polyester fiber batting. This layer adds softness and helps smooth out any irregularities in the foam, providing a polished appearance.

Protective Covers: To safeguard your foam cushions from spills, stains, and wear, use protective covers. These covers are typically removable and machine washable, making them easy to maintain for years to come.
Care and Maintenance Tips
We thought we'd end this post by sharing a few care and maintenance tips for preserving the comfort and lifespan of your foam cushions. Regularly fluffing and rotating cushions, prompt spot cleaning, and protecting them from direct sunlight are key practices to ensure their longevity. Follow these tips to enjoy the lasting comfort and durability of your foam cushions:
Regular Fluffing: Give your foam cushions a gentle fluff regularly to redistribute the foam and prevent uneven wear. This helps maintain the cushion's shape and resilience.

Rotating Cushions: If your seating arrangement allows, rotate your cushions periodically to distribute the weight evenly and minimize wear on specific areas.

Spot Cleaning: In case of spills or stains, promptly spot-clean the affected area with a mild detergent and water. Blot the area gently without scrubbing, as harsh rubbing can damage the foam or fabric.

Protect from Sunlight: Prolonged exposure to direct sunlight can cause fading and deterioration of the foam and fabric. Place your cushions away from direct sunlight or use curtains or blinds to shield them.
Elevate Your Seating with Our Cushion Foam
When you invest in quality foam cushions and take the necessary steps to care for them, you can create an inviting space to relax and unwind in. If you're ready to enjoy the comfortable seating arrangement of your dreams, head on over to Foam Factory, Inc to check out our selection of foam for seats and seat cushions. We proudly offer a large collection of custom foam cut options, foam inserts, outdoor foams, and more; there's something for everyone!