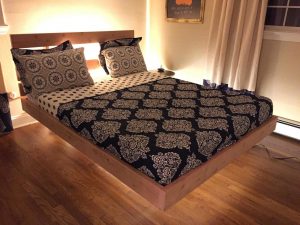 You've just purchased a brand-new memory foam mattress or foam topper from FoamFactory.com, and are excited to begin enjoying targeted joint support, superior comfort, and restful sleep every night. As long as you're in an upgrading mood, why not replace your old bed frame with something that better fits your mattress and decor? Here are some awesome (and relatively easy) DIY bed frame projects to consider.
Platform bed frame with storage
 For dorm rooms, studio apartments, children's rooms, and other areas where sufficient floorspace is lacking, a platform bed frame with built-in storage cubicles is a fantastic choice. Basic options require you to do little more than strategically arrange a few wood pallets, while more sophisticated designs may incorporate paint, colored LED lighting, and other accents. Visit [this link] for 40 great ideas.
Pipe bed frame
 A bed frame crafted of industrial pipe is both minimalist and modern, making it the ideal bedroom centerpiece for a downtown loft with exposed brick walls or a suburban home that favors clean lines. Whether you want a simple frame with a headboard and footboard or a taller, canopied structure.
Hidden/Murphy bed frame
 Are you wondering how to better utilize your guest room for the 50 weeks of the year when relatives aren't visiting for the holidays? Do you want to give your kids more space to play in their room or need to use the master bedroom as a home office during business hours? If so, consider making a DIY Murphy bed frame that will allow you to store the bed vertically within a wall-mounted cabinet when it's not needed. Here's [one site] that offers a free tutorial for building your Murphy bed frame, but there are plenty of other designs and plans (both free and paid) to choose from out there.
Floating bed frame
 One of the hottest styles right now is a floating bed frame, which basically makes it look like the bed is hovering above the floor. This project requires more time and woodworking skill than the others listed here, but the final results are truly amazing! Check out the step-by-step guide (featuring plenty of in-progress pics) at [Life Buzz] to judge for yourself.