Finding the right mattress is key to a great night of rest. While spring mattresses are still a popular choice on the market, many consumers are moving away from this design in favor of foam. There are plenty of reasons to choose foam mattresses such as superior support, extra cushioning, and better pressure relief. When deciding which foam mattress is right for you, a quick comparison of two top choices always comes in handy. Let's take a look at Leesa mattresses vs. Foam by Mail mattresses to help you make an informed decision.
Leesa Mattress
When comparing Leesa mattresses vs. Foam by Mail mattresses, we should start with the basics of construction. The Leesa mattress is made using several foam layers to create the core of the foundation. For example, it uses a comfort layer of LSA 200 foam that brings a bouncy, responsive feel to it while adding support due to the density. It also has a layer of memory foam which helps with body contouring. The third layer is a high-density poly foam to give the mattress more stability and help support the two softer foams overall. This construction is pretty straightforward, and many consumers enjoy the outcome. However, there are a few things to keep in mind. Here is a brief pros and cons approach to looking at the Leesa mattress:
Pros
Ideal for back and side sleepers
Thanks to the triple-layer construction and the higher density of the core, this mattress is great for side and back sleepers while providing adequate support. It provides concentrated pressure point relief by contouring to the body for individuals prone to sleeping in these positions.
Great for pressure relief without limiting movement
A common complaint about mattresses that offer great relief for pressure points is the feeling of being stuck in the bed or that they are harder to get out of since they are contouring. This mattress removes this concern with more density to provide support.
Reduces overheating for hot sleepers.
Foam is a breathable material that helps increase airflow. This increase in airflow can help hot sleepers stay cooler throughout the night.
Cons
Not ideal for stomach sleepers
The mattress may not be firm enough for individuals who prefer to sleep on their stomachs. Stomach sleepers generally need a firmer mattress to make it easier to move as they roll to the side. Not suited for those with a preference for classic memory foam or springs.
If you are used to spring mattresses, you may find the foam troubling or too soft. If you prefer classic memory foam, the Leesa may not give you the classic memory foam sinking feeling you prefer. No options for a custom approach to achieve desired firmness or softness. If you prefer a firmer or softer mattress, you are out of luck as the Leesa is only available in the one type of construction and foam. It is also only available in one height of 10 inches tall which can be a problem for some shoppers.

Foam by Mail Mattress
When comparing these two options, there are a few things to keep in mind. For starters, Foam by Mail mattresses come in a range of foam types rather than just one design like the Leesa mattress. For instance, consumers can choose a particular type of foam to meet their preferences or needs, as well as foam mattress toppers, memory foam mattress toppers, and more.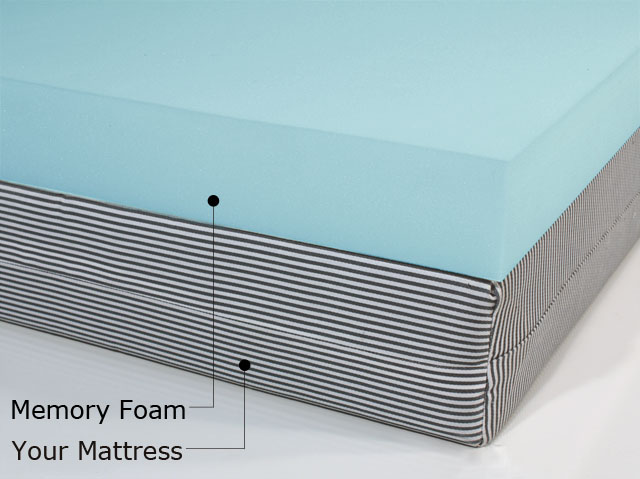 Pros
Allows for custom sizing
Since the mattresses are not a single product like the Leesa, you have options for custom sizing. If you prefer something other than the 10-inch height of the Leesa, these mattresses are ideal. They can be custom cut to meet your needs without worry.
Allows for more control over firmness or softness
Another big benefit with Foam by Mail mattresses over Leesa is that the shopper has more control over the ever important factor of firmness or softness. Consumers may choose a super firm mattress or a super soft one, depending on their preference.
Options available for sleepers of all positions
Whereas the Leesa may not be ideal for stomach sleepers, there is a Foam by Mail mattress for any sleeping position. Thanks to firmer options being available, stomach sleepers can find the right support they need for a great night of rest.
Options ideal for hot sleepers
Foam by Mail offers several different types of foam for mattress needs. Foam is a breathable material which helps keep sleepers cool. Traditional mattresses do not offer much in the way of breathability. Memory foam available in several densities.
Aside from regular foam mattress, there are also memory foam mattresses. While memory foam is known for its softness and contouring elements, the density matters a great deal for this material. With a lower density, the memory foam is more cushioning and contouring while a heavier density offers contouring but with more support. Leesa mattresses do not give consumers this option to choose the different densities in memory foam. If a shopper is looking for more options, Foam by Mail is the better choice without question.
Mattress toppers to test out foam solutions
If you are unfamiliar with the use of foam for mattresses, the use of a Foam by Mail mattress topper is a great middle ground. It allows consumers to test out what foam feels like without committing to a whole new mattress. It may also add some softness without losing any of the firmness of traditional spring mattresses. Unlike Leesa, Foam by Mail has foam mattress toppers to let you test it out for yourself.
Affordable
Foam by Mail mattresses are some of the most affordable on the market today. They give consumers the high-quality foam sleeping experience without a high price tag compared to other bed-in-a-box dealers. If consumers want a great deal of customization, comfort, and a great price, it is pretty much impossible to beat Foam by Mail mattresses.