If you're an avid sports fan, then you've gotta love the fall season. Whether you enjoy cheering on the big boys in pro and college football or prefer to scream yourself hoarse at your kids' junior and senior high school games, you've got plenty of action-packed days and nights to look forward to in the coming months.
Of course, being a sports fan also means spending a lot of time sitting in the bleachers. And since a majority of playing fields and venues have the most uncomfortable aluminum benches imaginable, we recommend doing yourself (and your backside) a huge favor by bringing a stadium cushion to every event you attend. Here's an easy DIY cushion project to tackle—no pun intended—before the next big game:
Materials
Large piece of 2" thick high-density foam
Electric knife or sharp carving knife
Ruler
Durable fabric long enough to cover both sides of the foam
Sewing machine or needle and thread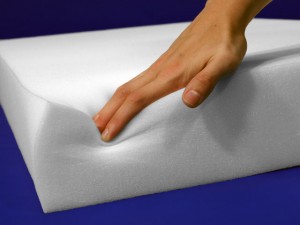 Steps
Using the electric knife or carving knife and ruler, cut the foam into a square shape in your desired dimensions. For reference, two popular sizes for stadium cushions are 15" x 15" and 17" x 17", but you can easily go larger or smaller if necessary. For this example, we'll assume a 17" x 17" cushion.
Next, measure and cut the fabric to approximately 20" wide by 40" long.
Fold the fabric in half with the pattern sides facing each other, and then sew together. Be sure to leave at least 3/8" along the sides for the seam and leave the top open so you can insert the foam.
Flip the fabric right side out so the pattern is exposed. Insert the foam into the cover, and fold down any excess fabric at the opening. You can pin the excess to the inside of the opening or simply trim it away.
Sew the cover closed.
Your new foam cushion can be used away from the stadium as well. Try it with picnic tables, on park benches, or even in the car for portable comfort whenever you need it!