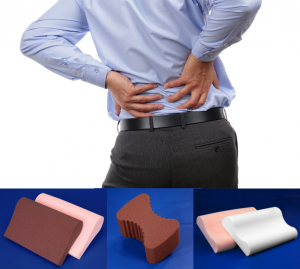 Chronic back pain sufferers know just how elusive a full night's rest can be, especially when no amount of twisting or contorting their body will yield a position that is both comfortable enough and supportive enough to allow them to sleep soundly. What they might not know, however, is that the solution to their troubles could be as simple a matter as using the right foam support pillow.
Foam support pillows have been used for decades to help align the head, neck, shoulders, spine, and other problem areas during rest and sleep. When proper alignment is maintained throughout the night, it often results in the kind of deep, restorative sleep that is so important to health and general well-being.
If you're having trouble falling asleep or staying asleep because of back pain, we suggest trying one of the following types of support pillows:
For side sleepers
To keep the head and neck in line with the spine, side sleepers should choose a pillow model that not only cradles the head but also features enough loft to prevent subsequent sagging. Contour pillows made of medical foam or memory foam are the side sleeper's best bet.
For back sleepers
Back sleepers don't require nearly as much loft from their pillow as side sleepers, so a soft and fluffy low-profile option—such as something made of 3LB or 5LB memory foam—is recommended here. You may also wish to consider a pillow made of shredded memory foam. In addition, placing a standard pillow under your legs as you sleep will help relieve pressure from the lower back.
For stomach sleepers
Using a thick or firm pillow in this position will force your head and neck up to a point where it is out of alignment with the spine, so instead choose a low-profile pillow made of shredded foam or other easily compressible materials. You can also try placing a small fiberfill pillow under your waist to help keep your spine aligned.
If chronic back pain has been interfering with your sleep, try making the switch to a memory foam, medical foam, or shredded foam pillow for the kind of support recommended for your favorite position. This small change might be the only thing standing between you and a good night's sleep, so do it today!