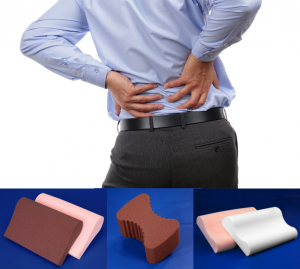 Your pillow can be one of your best defensive tools in your fight against back pain. In addition to being extremely comfortable, a foam support pillow has the power to keep your spine aligned and reduce tension and stress in your neck. Placing the pillow under your head will help correct any back pain, while a pillow under your legs or lower back reduces pressure and realigns your spine. 
Most people will, at some point or another, endure irritating back pain with symptoms ranging from minor to significantly severe. Injuries to the spine, upper and lower back, or underlying disorders can all result in back discomfort. In addition, incorrect sleeping, sitting, and standing posture can all make back pain worse. As back pain worsens, so does sleep quality.
Foam support pillows are a tried-and-true method for alleviating many levels of back pain. It should be noted, however, that different kinds of sleepers will need different shapes and styles of foam pillows. Whether you're a back sleeper, a stomach sleeper, or a side sleeper, there is a pillow that will work for you.
Back Sleepers:
If you sleep on your back, you'll need a foam pillow with a loft that's neither too high nor too low. A pillow for back sleepers will focus on spinal alignment, so a foam that will gently support the neck is ideal. Aim for a moderately weighted pillow of about 3-5 pounds. Ideally, this will support your neck without being too firm. Consider a pillow made with shredded memory foam, as it will adhere to the shape of your body and better support your neck. As noted, a moderately weighted pillow is ideal because a lighter, less dense memory foam will match your neck shape more effectively than one that's too heavy. In addition, try placing a pillow under your legs if you sleep on your back; it can reduce pressure and relieve lower back pain, which can make getting up in the morning much easier.
Stomach Sleepers:
If you're a stomach sleeper, we recommend a pillow made of easily compressible materials. As you sleep on your stomach, your head often tilts up, which can put a lot of unwanted pressure on the top of your spine. Some of the most compressible materials include shredded foam, which, as stated earlier, can be a great comfort for your neck. Standard feather pillows may be comfortable at first but will flatten over time and lose any positive effect they may have once had on your back. A shredded memory foam pillow lasts much longer and supports a stomach sleeper's neck better than most other pillows. To keep your spine aligned while on your stomach, you can also place a small, fiber-filled pillow beneath your waist.
Side Sleepers:
Side sleepers need a pillow that keeps their head and neck at an even level with their spine. A memory foam contour pillow can safely hold one's head without the risk of sagging over time. In addition to alleviating back pain and discomfort, contour pillows are often used to help improve sleep quality for people who snore or suffer from sleep apnea. Keeping your airways open while you sleep is incredibly important to achieve a normal, healthy intake of oxygen throughout the night. 
By sleeping with support foam pillows, you can ease and correct back pain that could be caused by the way you sleep and reduce any discomfort caused by already existing back pain. If you've been missing a significant amount of comfort while you sleep, then it's time to make the change. Contact Us for more information, and find out what support foam can do for you!