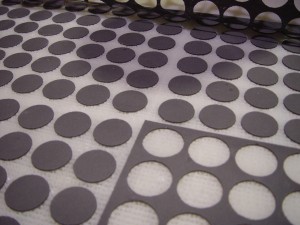 A creative, custom foam cutout is sure to maximize the value of your promotional product at your next big event. Does your business want to add an extra layer of fun and memorability? Foam Factory has what you need to make your next event a success!
Foam can be a great material for promotional items that are aesthetically pleasing. These types of items are fun to receive as part of a prize ensemble in sweepstakes or giveaways. These products are often produced en masse. Whatever your organization requires, Foam Factory, Inc. is exceedingly capable of helping you to design and release a high-quality novelty.
We can produce any desired 2D shape or size that you have in mind. Our products are durable enough to last during any high-energy or high-traffic event. A lasting product means a lasting message, which in turn means that your brand and message will reach more people than ever before. If you have a foam item that's fun to wear or entertaining to hold, like a noodle, sword, or spear, it will be an attractive item to fun-loving fans of your brand, as well as an eye-catching tool that's alluring to those nearby who do not have one of these fun foam products!
All of Foam Factory Inc.'s foam materials are reliable and safe products that you can count on. As a matter of fact, our soft, colored acoustic foam is top of the class in fire retardancy. You can be assured that you're investing in safety, as well as quality.
The items from Foam Factory are available in 12 distinct colors for total product customization. We also offer several color options for our closed-cell crosslinked polyethylene foam if you are seeking a product that has a smoother surface or one that is denser. Consider creating custom cutouts with team themes or company colors! We produce fun foam cutouts that are fun for all ages! We can also make functional items. In addition, these foam items can be used for crafts as stamps, labels, or any creative use you can think of. The sky is the limit with Foam Factory products. The more appealing and useful your novelty is, the longer it will stick around, and the more exposure it will get.
Foam Factory can produce product prototypes out of foam, as well. Foam prototypes are a great method to test a concept, present your product to possible investors, or generate buzz before launching. They are significantly affordable, especially for small production runs.
Foam Factory uses cutting-edge technology to manufacture the best foam products for you. Our waterjet cutting method carefully and precisely cuts foam to perfection, resulting in a clean product suitable for your needs. For larger orders, we employ a foam die-cutting process that can make large amounts of your item efficiently and can be held to high levels of quality. Every step of the production process is expertly performed to give you the best product possible.
If you aim to delight and inspire at the next big event, you simply can't go wrong with our custom foam cutouts. With the many varieties of color, shape, size, foam type, and quantity, the possibilities we offer are nearly endless. If you are looking to get noticed, be the remembered image, or command the talk of a fun gathering, Foam Factory novelties and cutouts are the product for you and your group.