Trying to find a memorable promotional product for your company, a way to kick school spirit up a notch for the big game or a fun giveaway at a company outing? Look no further than custom foam cutouts from Foam Factory, Inc., a great way to make an impact, statement or memory!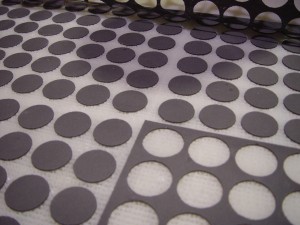 With their wide product line and production capabilities, Foam Factory is the perfect resource for creating a promotional product or giveaway that will be enjoyed and appreciated. The ability to produce 20 or 20,000 items quickly, precisely, and in accordance with your budget means whether you're a large company planning promotions for a new product or just a small business trying to get a foothold in your niche, custom foam cutouts will go to work for you.
Capable of manufacturing any 2-D shape, Foam Factory can tailor a product to any goal you are trying to achieve. These fun, bold items will be kept longer by prospective customers, keeping your company and its message in contact longer with potential customers. The biggest benefit of a custom foam promotional cutout however, is that it also reaches people who didn't receive one. An oversized foam sword, foam finger, hammer, spear, tomahawk or noodle at a sporting event is going to be noticed by the people around the individual holding it, and every person who sees it being waved in the air is receiving your message as well. These quality foam products are durable enough to hold up event after event, which means every time a fan brings your custom cutout back to the game to cheer, you're reaching a whole new segment of people, extending the life of your marketing campaign and stretching the value of your dollar.
Foam Factory features 12 colors of soft, squishy open-cell foam for complete product customization. The colored foam is also used as acoustical foam for other applications, and has received the highest Class A fire retardancy rating for its class. Additionally, closed-cell cross-linked polyethylene foam (XLPE) is available in seven different colors, for uses where a denser, smoother product is desired. And while Foam Factory doesn't screen print names or logos on the products they manufacture, their mechanical capabilities allow designs, patterns and even words to be cut out from inside of the form's body.
In addition to team-themed cutouts at sporting events, Foam Factory can produce an array of designs in any color foam, limited only by the imagination. In the past they have made cutouts of sporting equipment like balls, bats, helmets and hockey sticks, animals like dogs, birds, whales, squirrels, horses and crabs, and novelty shapes like moons, keys, bones, music notes and lightning bolts.
Besides simple cutouts, functional products can be designed too. These include visors and foam hats with patterns and designs, throwing discs and even coasters to keep tables from being scratched. The more fun or use somebody can get out of promotional goods, the longer they will be kept around, exposing more people to a company, logo or message. Fun shapes and designs can be made for sponge stamps for kids or crafting, as can strong, flexible numbers and lettering for creative labeling, crafts or other projects. A stadium or outdoor cushion can also be made, which people will bring anywhere that has hard, cold or wet seating. A carrying handle cutout can also be added to any outdoor seating cushion to make it even easier to bring along.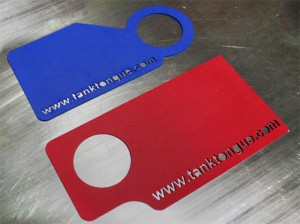 In addition to product promotions, Foam Factory can also produce product prototypes. Affordable, even in short production runs, foam prototypes are an excellent way to try out an idea, pitch your product to potential investors or get word of mouth generated before launching the product. One prototype Foam Factory has manufactured is a 1/8 inch thick, XLPE foam gas tank cover that protects the car from scratches and spills, with the company's website cut out inside the foam for instant reference. With no minimum or maximum order, about 100 were produced at the company's request, enough for them to get a feel for the public reception of their product and to catch the eye of potential customers.
Foam Factory's ability to produce products economically on both ends of the manufacturing spectrum comes from their versatile fleet of machinery. Computer programmed foam waterjet cutting can trace the outline of any shape with a thin, powerful stream of water, making clean cuts around the whole surface. Coming from a single source, as opposed to saws that are mounted on both ends, the waterjet can turn off, relocate, and turn back on to cut designs or words within a product, while keeping its outer edge solid. With only programming and no plates or dies required, the waterjet cutter is perfect for low-production products at an excellent price.
Mass-production materials can be made through a foam die-cutting process, using plates to create exact replicas of a desired shape in large quantities. When many identical items are needed, multiple designs can be made on a single plate and then several plates can be arranged on the pressing table. This means that in a single stamping of the die-cutter, hundreds of items can potentially be produced in a few seconds, quickly and efficiently. Once the stamped items are gathered, a new sheet of foam is placed over the plates and the process repeats.
Foam Factory has created custom foam cutouts for schools, small businesses, large businesses, sports teams and individuals. With the ability to produce products in any size, shape, foam type or quantity, these products will get your company noticed, fire up the crowd or put a smile on your employees' faces.