Whether it's acid reflux, sleep apnea, targeted discomfort, circulation problems or snoring, many medical maladies can potentially be traced back to physiological sources, such as poor posture or a lack of body support. Before drastic and expensive measures are taken, like surgery or prescription medication, simple lifestyle changes may help improve your health. Foam Factory, Inc.'s body wedge product line is one practical and affordable way to improve posture, relieve stress, increase comfort and assist in alleviating these ailments.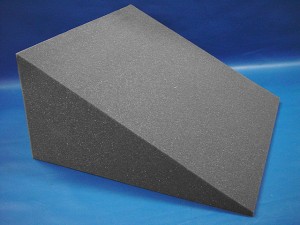 Incredibly versatile products, body wedges can be used for many applications. In addition to upper and lower body bolstering for sleep support, wedges can be used for the same purpose while relaxing, reading or watching TV. These increases in sitting and sleeping angle have proven to be an effective, non-invasive acid reflux treatment for some people. They can also be utilized as an exercise product, seat cushions and physical therapy materials.
Available in six angles ranging from 14 degrees to 33.5 degrees, these 24 inch long wedges can provide a gentle incline, a drastic one, or any in between. Also, when placed upright on their ends, a foam support can provide steeper angles for users wanting to prop themselves upright, like when reading or watching television in bed. Wedges can be used to isolate individual problem areas as well. For example, a leg wedge is able to provide knee support or boost the feet for help with circulation. The poly foam used in these wedges has a soft feel with a 1.5 pound density that doesn't allow the foam to be compacted by body weight.
Slightly different from standard body wedges, medical foam body wedges have unique properties that make them particularly useful for long-term use or applications involving physical exertion like exercise or physical therapy. In other products, the moisture generated by exercise or the body heat produced during a night's sleep could, over time, generate microorganism growth. However, medical foam is anti-microbial, suppressing irritants like mold, mildew and bacteria. Medical foam also features a textured wave pattern that increases air circulation and helps prevent the user from sliding down the cushion, maintaining their desired position. These bed wedges are available in the same sizes as a poly foam wedge.
Specially designed orthopedic cushions are created for people who remain seated for extended periods of time. People have a tendency to lean forward or slouch during the day, creating stress and tension in their neck, shoulders and lower back. These cushions combine a forward facing slope for improved posture and a rear cut-out to relieve tailbone pressure. Pressure generated in the tailbone region radiates up the spine, so cushioning that area positively impacts the rest of the body.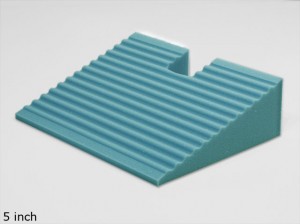 The orthopedic cushion comes in three different heights, 3, 4 and 5 inches tall, for selecting the most beneficial wedge angle. Currently available in HD36-HQ, Lux-HQ and soon, medical foam, these cushions have either a medium or firm feel, are long-lasting and will continue to support you day after day. These cushions can also aid in the prevention of pressure sores for those in wheelchairs. Of course, even if you don't have a medical need for a seating or sleeping wedge, a supportive foam cushion will make any hard seat or uncomfortable bed much more pleasant.
Cover and care options for the body wedge line are numerous as well. The standard poly body wedge comes with a non-removable gray and white striped cover, made of a 50/50 cotton and polyester blend that can be spot cleaned as necessary. The medical foam body wedge features more customization options with two fabric choices in nearly 20 different colors or the option to receive the product as foam only. Foam Factory's new 100 percent cotton twill covers and 100 percent micro-fiber suede covers include a zipper for easy removal and are machine washable. There are nine custom color options available in the twill cover and 12 in the suede. And while the orthopedic cushions are currently available in foam only, Foam Factory will soon be introducing a non-removable gray and white striped cover like the one offered for the poly body wedge.
Regardless of your individual needs, whether it's to improve your health, stay more comfortable at work and while driving, or to simply help you relax or sleep better at home, Foam Factory's body wedges can provide you with the support and comfort you need to live a better life.