Are you tired of seeing packing foam pile up in your house or office after unboxing items? Don't worry; you're not alone! Packaging foam is a material used to protect fragile items during transportation, but it is notorious for being hard to dispose of sustainably. Instead of throwing it all away, consider reusing your leftover foam for some DIY crafts. With these activities, you can have some fun and help the environment at the same time. Here are 8 easy ideas to get started: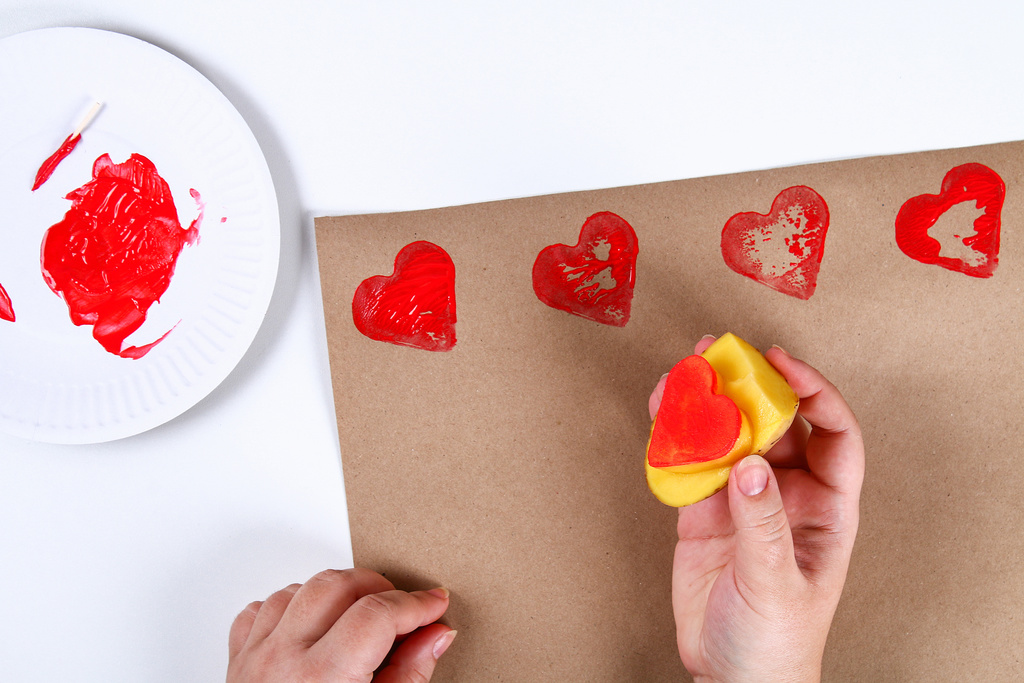 Stamps
Making stamps out of packing foam is a fun way to create unique patterns and designs on paper or fabric. To do this, simply cut out the desired shape from the foam and glue it onto a wooden block or a corkboard to create a handle. Once you have your stamp, dip it in ink or paint and begin stamping! You can make different shapes and sizes of stamps, such as simple circles and squares or other more intricate designs. Use your new stamps to decorate clothing, greeting cards, or wrapping paper. The possibilities are endless!

Foam Planters
Calling all plant lovers! Did you know that you can use packaging foam to make your own sustainable planters? It's a super easy way to recycle your old foam. First, cut the foam to the desired shape and size, then cover it with decorative paper or fabric (glue or double-sided tape works well for this). Once the paper/fabric cover is set, poke a few holes in the bottom of the foam for drainage, fill it with soil, and plant your favorite plant. If you want, you can add decorative ribbons or beads to give your planter a unique look.

Jewelry Organizer
Tired of untangling necklaces and losing earrings in the depths of your drawer? Use leftover foam to make a simple but effective jewelry organizer. Simply cut the foam to fit the size of your drawer, then use a knife or scissors to create small pockets/slots for each piece of jewelry. If you want your jewelry organizer to match your décor, you can cover the foam with fabric or paper. With a foam jewelry organizer, you'll be able to keep your jewelry organized while also repurposing something that you already had.

Picture Frame
Another great DIY idea is to create a custom picture frame out of leftover foam. This is a fun activity to do with kids, and it can be completed in just a few simple steps! Start by cutting the foam into the desired size and shape (this will vary depending on the size of your photograph). Next, decorate the foam with paint, markers, stickers, or whatever you have on hand. Then, cut a small slit in the foam to insert the picture. Place it on your desk or hang it on your wall to show off your skills! Not only have you added a personalized touch to your photos, but you're also helping the environment by upcycling.

Kids' Toys
Looking for an easy way to keep your little ones entertained? Try using leftover foam to make DIY foam toys! These toys are lightweight, soft, and safe for kids to play with. The process is simple – all you have to do is cut the foam into various shapes and sizes, creating different animals, objects, or whatever you desire. To make them even more fun, paint the toys with non-toxic paint or add accessories such as googly eyes or stickers.

Cushions and Pillows
If you have larger pieces of leftover foam, you can use them to create cushions or pillows. Cut the foam into whatever shape or size you desire, and then cover it with fabric. You can use any type of fabric you like – cotton, linen, and velvet are all great options. There are a wide variety of options out there, so just choose a pattern or color that complements your decor. Either sew the fabric together or use hot glue or fabric tape to attach it to the foam. Now you have an adorable and sustainable cushion or pillow!

Wall Art
Need to fill a blank space on your walls, but don't want to spend the money on expensive décor? Extra foam can be used to create unique and interesting wall art! Cut the foam into different shapes, such as circles, triangles, or squares, and then paint them with acrylic or spray paint. You can arrange the shapes in a pattern or hang them in a random display for a more eclectic look. Making foam wall art is a great way to show off your creative side!

Coasters
Our last DIY activity recommendation is to create colorful and unique coasters. Cut the foam into circles or squares, and then cover them with fabric or decorative paper. Use hot glue to attach the cork to the bottom of the coaster to prevent it from sliding on surfaces. You can also add a layer of clear varnish to protect the surface of the coaster from spills. These foam coasters are perfect for using around the house, or for giving as gifts!
There you have it! Eight creative ways to up-cycle packing foam and reduce waste. These crafts are simple, fun, and can be customized to your liking. So, the next time you receive a package with packing foam, don't throw it away. Instead, get your crafting tools out and start creating. With these DIY upcycling activities, you can help the environment and have fun while doing it!