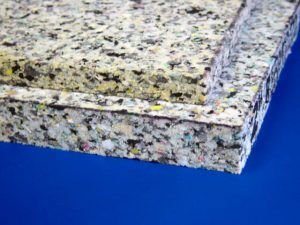 Products intended for commercial use in hotels, restaurants, airports, and similar venues must be chosen with durability in mind. This is because the sheer amount of wear and tear commercial property and facilities are subject to is far greater than anything seen in even the liveliest and most rambunctious private households. In addition, people are naturally less careful about protecting and preserving something that isn't theirs, so it's not surprising that commercial products need to be tough or else face frequent repair or replacement.
Take seating, for example. When picking out a dining chair or sofa for your home, you would likely be interested in comfort first and durability second. This makes sense because usage will be limited to a handful of family and friends. But when choosing seating for a restaurant, bar, or hotel lobby, the priorities are reversed—which is where rebond foam comes in.
Rebond foam is an open-cell urethane/ether foam that is made from shredded foam that has been bonded under compression with an adhesive. This process makes rebond foam extremely strong and durable, but also too rigid for most residential applications. However, it's this very rigidity that makes rebond foam a near perfect fit for a wide range of commercial applications. In fact, quality rebond foam will last for more than 15 years with little to no maintenance required.
Some suggested commercial uses of rebond foam include:
Restaurant booths and chairs
Barstools
General airport seating
Church pews
Mats for wrestling, gymnastics, and other sports
Motorcycle, snowmobile, ATV, and golf cart seats
Carpet underlays
Hospital waiting rooms
Cafeterias
Hotel and motel lobbies
If you are looking for rebond foam for the above applications or any other commercial use you can think of, then visit FoamByMail.com today to place your order. Our 7lb density rebond foam is available in thicknesses of 1" and 2" and can be ordered by the half sheet (25" x 80") or full sheet (50" x 80"). We also accept custom orders and offer a discount on bulk orders, so don't hesitate to contact us with your specific requirements.