Just like the people who use it, foam can take on many different roles in life. Foam can always be found working hard as insulation, floor padding, packaging or sound treatment; tasks it excels in. But once the workday is done and the weekend arrives, foam gets to show its lighter side, with its ability to be made into a plethora of toys for any age. Foam Factory, Inc. is proud to offer a wide selection of foam toys, as well as a substantial range of customization possibilities.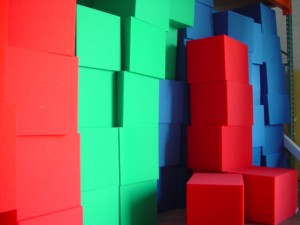 The number of toys that can be made from foam is greater than most would think, and many toys typically made of other materials can be easily replicated out of foam. The greatest benefit of foam toys however, and one that cannot be overstated, is their safety. The resilient but soft structures of Foam Factory's foam toys are non-toxic and lack sharp corners, hard edges and the potential to snap, shatter or break. Instead, foam is wonderfully flexible, able to hold up to the squeezing, stretching and twisting of any proper playtime. Because of this durability, foam is not just a superb material for making toys to play with but also for making toys to play in, on and around.
Possibly the most popular foam toy, if not the most noticeable, swimming noodles can be seen anywhere there is a pool or beach during the summer. Made of closed-cell polyethylene, these cylindrical forms are flexible, very buoyant and resistant to mildew, mold, rot and bacteria, making them the perfect water toys for the whole family. Foam Factory provides a range of polyethylene cylinder sizes from 17 to 70 inches long. Noodle diameters are available in four sizes as well, as small as 1 ½ inches or as large as 4 inches to find the size that works best.
Another popular custom toy is the foam cutout. With an expansive catalog of designs that includes animal shapes, dinosaurs and vehicles, to stars, snowflakes and people, Foam Factory has a wide selection of detailed patterns to choose from, a majority of which they designed themselves. These designs can be cut from any of the available 12 open-cell foam colors or the seven available closed-cell colors. Beyond their stock patterns, Foam Factory has the capability to produce any custom shape or design a customer has in mind, using their computer controlled cutting machines. Shapes aren't restricted to just silhouettes either, with interior cuts also able to be made thanks to the versatile machinery Foam Factory possesses. Absorbent open-cell foam is great as pool or bath toys for younger children, cut into their favorite sea creatures. When dry, foam shapes and designs can be used as safe, interactive education tools for teaching children about animals, colors, letters and shapes. Additionally, thicker foam designs and shapes are able to stand on their own, providing even more possibilities for the imagination.
For older or more adventurous children, foam can provide exciting toys to help them stay active and exercise their imagination. Foam blocks or bricks manufactured from lightweight foam can give children the opportunity to build forts and skyscrapers, without the weight or hard edges of traditional building block materials. If these structures topple, instead of having to run to safety, children can laugh as the foam bricks tumble around them. These blocks can be made of open-cell foam for cushy, lighter forms or closed-cell cross-linked polyethylene foam (XLPE) can be used for sturdier foam building blocks for children that hold their shape but are still soft enough to keep children from climbing and falling. Interlocking tiles can also be made from closed-cell foam to create more rigid forms that make for structures that are more stable than loose blocks. These tiles can be easily separated, stacked and stored or reconnected on a flat surface as a soft padded mat for other activities. Those same tiles can also be custom cut into unique patterns to create larger-than-life puzzles as well, helping develop problem solving skills without the frustration of tiny pieces.
Despite excelling as learning tools, there's no reason toy foam can't be used for good old-fashioned fun. XLPE can be cut into circles for flying discs of any size, resilient enough to hold its shape and glide through the air, but with a softness that won't jam fingers or break anything like hard plastic flying discs can. It is also an excellent material for use in foam crafts. XLPE is extremely buoyant and moisture resistant as well, making it great for fun in or out of the water. Pop-out foam hats are another product Foam Factory has produced extensively. A hat can give its wearer bull horns, turn them into spacemen and have even been designed to look like octopi. These hats can be as basic as a visor or adjustable for a perfect fit. Specialized shapes and designs are also an excellent inclusion in gift bags or for other novelty gifts, like play swords or fan giveaways at a sporting event.
The next time you find yourself thinking about foam, remember that just like you, it also likes to have fun. The durability and safety that makes it such a useful material in industry also makes for long-lasting toys that anyone can enjoy. After all, all work and no play makes foam a dull material.