People engaged in active lifestyles know the importance of preparation before athletic activity. Staying hydrated, stretching, and wearing the right apparel are all components of a healthy lifestyle. While few fail to prep their bodies for activities, it is where we play and exercise that often goes overlooked.
Because of this, Foam Factory, Inc. offers a wide selection of floor padding products to make sports and exercise safer and more fun. Unsupportive and rigid floors are hard on our joints and ligaments during impact activities like gymnastics, calisthenics, or dance. Flooring is even more vital in indoor contact sports such as martial arts and wrestling, where safe competition dictates that the ground must be a surface that can absorb impact without causing injury.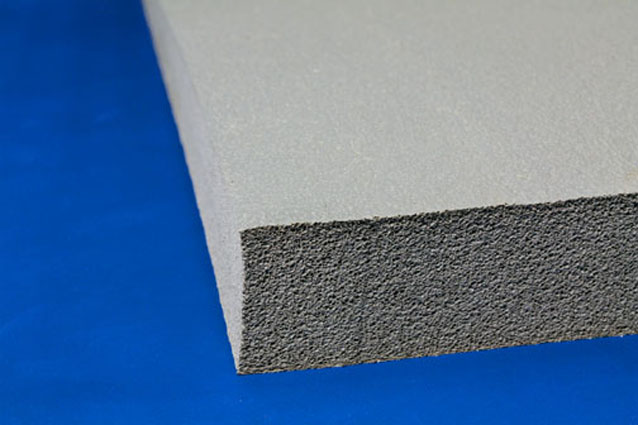 Making use of a range of closed-cell foam types due to their high densities, long-term resiliency, and moisture-resistance, Foam Factory can manufacture cushioned and supportive floor padding, for gym flooring or individually-sized exercise pads.
Flexible and durable, gym rubber is frequently used as activity flooring or padding for gymnastics or wrestling. Featuring a 4.5LB density, this foam rubber can support bodies while providing enough cushion to absorb impact from running, jumping, and tumbling. Gymnastic rubber is extensively used in weight room flooring and home gym flooring. Another useful quality of gym rubber is its outer skin that allows the material to be easily cleaned. The foam's skin is firmer than the interior, which offers a stable walking surface without being so rigid that it negates the shock absorption of the rest of the foam.
Foam Factory can also cut custom floor padding, providing the option of both permanent and temporary flooring. Foam is able to be cut into interlocking flooring tiles or mats that hold together, even under pressure. Using interlocking rubber tiles, play areas at school, daycare, or at home can be quickly assembled, expanded, or reduced according to need, while being able to be stored when not in use.
Interlocking tiles can be cut from any of the gym rubber varieties, or, for the firmest exercise floor tiles, they can be cut from cross-linked polyethylene foam (XLPE) for a solid but safe play area surface. There needn't be any worry about not ordering enough custom-cut tiles either, as Foam Factory keeps all orders and specifications on file. If you decide you need to up the size of your previous order months or even years later, Factory can cut additional interlocking tile pads that will fit perfectly with your old ones.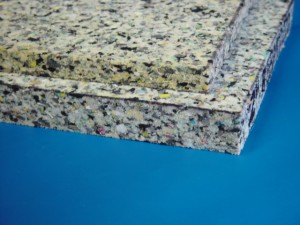 Other types of foam that Foam Factory can cut into custom floor padding are closed-cell polyethylene and open-cell rebond foam. Polyethylene is a lightweight shock absorbing material with shatterproof qualities. Available in densities ranging from 1.7LB to 9LB, this foam is very useful in places like dojos where balance is as important as a cushioning surface. Very firm rebond foam is another floor underlayment choice, featuring a high 7.5LB density. Often used as carpet padding in thinner sheets, rebond can provide support to its users while softening impact and absorbing shock. As an open-cell foam, it is important to use a covering surface to prevent it from absorbing moisture or tearing.
Occasionally, floors must be a solid, rigid surface. For instances like dance studios and others, where rubber exercise flooring cannot be placed on top of a hard floor, sprung floor construction designs can be implemented. This places shock absorbing materials under the flooring, similar to floating floor designs. Foam Factory offers the support materials that make this setup so effective.
Instead of flooring being placed directly onto concrete or floor joists, sections of resilient, shock-absorbing foam are placed between the floor and floor's base to provide cushioning, give, and a slight spring. This allows the floor to actually absorb impact without covering its hard surface. XLPE works well for these shock absorbing pads, and when spaced properly, these blocks dissipate the impact of jumps and heavy steps.
Padded flooring for impact activities is important for many reasons. In addition to the obvious benefit of reducing the chance of injury from a fall, floors that absorb impact reduce stress on our bodies for long-term health. Those factors, along with the safety it provides for children, makes Foam Factory floor padding the right decision, whether you're padding an entire school gymnasium or just need a mat to pad a play area.