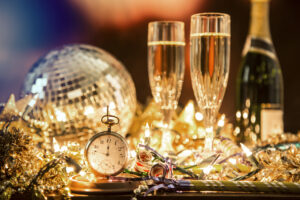 A New Year's Eve bash is unlike any other party of the year – whether you're hosting a glamorous formal event or a casual night in with family and friends, it's going to be a night to remember. Welcoming a new year is a special time that's meant to be celebrated, and what better way to do so than by creating some shimmering new year's crafts? In this post, we're bringing you five easy crafts and decorations that you can make yourself using foam. Let's get started! Here are our favorite DIY New Year's decorations:
1. Foam Board Letters
One of the easiest ways to spruce up your New Year's Eve party is by adding foam board letters to your décor. All you need is foam board, a crafting knife, a pencil, and a large stencil or ruler. Use the stencil (or ruler) to trace out the letter on the foam board, and then cut the letter shape out with the crafting knife. The letters you choose are up to you – spelling out "Happy New Year," "Celebrate," or even a simple "Welcome" can elevate any bare wall in the room.
You can decorate the letters with craft paper, scrapbook paper, or leftover wrapping paper from the holidays. If you're hosting a family-friendly evening, you can even let the kiddos draw on the letters with markers for a personalized touch. This is a great option for anyone because of its versatility. Whether you're decorating for an elaborate and elegant party or a simple, casual family gathering to ring in the New Year, these foam letters can really tie everything together.
2. Tinsel Number Banner
Next up on our list of New Year's crafts are tinsel number banners. Similar to the foam board letters, these number banners are created by using large number stencils to cut foam boards into a shimmering display of the New Year's numerals. To DIY this decoration, just cut two small holes in the top of each number and thread a long piece of ribbon or string through them. Then take some of that leftover tinsel garland from your Christmas décor (or snag some at your local craft store) and use a hot glue gun to attach it to the foam numbers. Pin your banner to the wall with thumbtacks, and you're done! Now you have a festive decoration that doubles as a photo op!
3. Circle Streamers
New Year's Eve is all about the glitz and glamour of sparkling decorations – and, of course, champagne! If you're hosting a more formal gathering, you might be wondering how you can elevate your guests'
experience for the evening. Hanging some sparkling circle streamers around the room will certainly catch people's attention!
To get this bubbly look, simply cut pieces of craft foam into circles of various sizes, with each circle being slightly smaller than the last. You can use any kind of craft foam, depending on your party's color scheme. If you're stumped, a glittery silver or gold foam always looks stunning. Place the circles in a horizontal line, starting with the largest and going down to the smallest. Then, glue them to a long piece of string or ribbon, leaving a small amount of space between each circle. You can make these streamers as long or as short as you'd like – just add more circles until you get your desired length.
Hang these glittery streamers from the ceiling all around the room for an ethereal, dream-like feel that perfectly captures the essence of New Year's Eve. Arrange these streamers around your tinsel banner to stage the perfect backdrop for an Insta-worthy shot!
4. Decorative Foam Confetti
Another quick and easy decoration for your New Year's Eve party is to make foam confetti for your table displays. This simple and customizable decoration only takes a few minutes to complete and will have your table shimmering in no time! Just take a few sheets of craft foam in the color of your choosing (glittery foam is even better!) and cut it down into small shapes. You can cut little circles for a traditional look or get creative and make New Year-themed shapes, like noisemakers or balloons. Sprinkle the confetti around your centerpiece or table runner, and you have an adorable DIY decoration to ring in the New Year!
5. New Year's Foam Glasses
The last New Year's craft idea on our list is a more family-friendly option, but these can be used for any seasonal party or even a birthday celebration. After all, is there a more timeless New Year's accessory than the iconic number glasses? We see these glasses year after year, and you can easily make your own using foam from Foam Factory, Inc! Just take a piece of craft foam and cut them into the shape of glasses. Cut out the numbers of the new year and glue them to the top of the glasses, and then decorate the rest with whatever you have on hand (markers, glitter, sequins). Kids will love making this fun craft!
Ready to get started to put things together for New Year's? Get all the products you need from us here at Foam Factory, and have a great New Year!