Custom compression cutting is taking all types of foam products to the next level. Whether you need personalized comfort detailing for your mattress or mattress topper, or specialized foam cut specifically for your sound booth, Foam Factory has got you covered.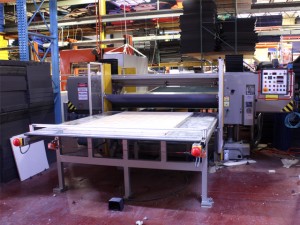 Foam Factory's new compression cutter, or foam profile cutting machine, is an addition that's allowed our high-quality products to become even better by producing detailed, specialized products to fit your personal needs and tastes. It can implement designs that can't be duplicated by hand in a systematic and perfectly executed fashion. Let's take a look at how compression cutting works and the most popular products that can be tailored to your specifications.
How Compression Cutting Works
Our Compression Cutter has the principles of both a die-cutter and a convoluter. First, the custom template is created using the CNC router to make the forms out of laminated particle board with computer-controlled precision. It presses the foam material over the pre-made template while a horizontal blade passes through the foam. With varying levels of pressure, the compressor creates a mirrored design in the foam. Two-sided designs can be made to be an exact copy on both sides, so any number of the same material can have a perfectly duplicated design with the use of the compression cutter.
We're able to offer specialized, custom products because of our compression cutter and the many different features it provides. Almost all of our open-call polyurethane foams can be cut down to fine detail with this machine, including the full range of memory foam densities, specialty outdoor Dryfast foam, and our charcoal packaging foam. With the ability to handle this range of materials, it's one of the most useful and versatile components in the foam industry.
Cutting Foam Mattresses and Mattress Toppers
The numerous benefits of having an excellent sleep experience have been studied extensively in recent years. Foam mattresses and mattress toppers have proven to increase the length and depth of sleep quality, which makes them incredibly valuable to your health and overall lifestyle.
Our compression cutting service allows us to provide a mattress made to your exact specifications, thus giving you the most exceptional night's sleep possible. We can cater to individual preferences with comfort detailing that provides your desired levels of support for different areas of the body. Custom contours can be cut out to match your body type. If you have a problem area on your body, we can cut it to provide you with the best comfort and support available. For instance, it's a popular option to have more support for the shoulder and hip areas with a softer cushioning foam under your legs and feet.
If you're looking for a thicker foam mattress, this machine has an option that can laminate materials together, creating a customized mattress on every level. If you already have a larger bed, we can accommodate that as well with the extended table attribute of our compression cutter.
Whether you already have a foam mattress and would like it upgraded, or you're purchasing a foam mattress or topper and would like it customized, we're here to help set you up for the best sleep possible.
Cutting Acoustical Foam
Our sound treatment line of foam has been upgraded with more customized options provided by our compression cutter. Whether you would like your own custom template created for qualifying repeat orders, or you'd like to use one of Foam Factory's custom template designs, we can create patterns that fortify the acoustical properties of your foam. If you'd like a one-of-a-kind design for your studio or workspace, we can accommodate that as well. Some of our new and popular designs are the Acoustic Grid, Acoustic Spade, and Acoustic Wave designs. Eggcrate, Wedge, and Pyramid Foam sound tiles are also available.
If you're ready to experience products that are truly cutting-edge, Contact Us to see how we can help customize foam products for you. Whether you're ordering from our pre-cut selections, need specialized products, or even have your own foam that needs to have detailed cuts made, our compression cutter will get the job done accurately and exactly as you'd like! Choose or create detailed customization possibilities, and we'll work to make them a reality for you!