As advances and breakthroughs are made in the study of sleep, people become more aware of the importance of proper rest and how vital body support is to getting it. In comparison, changes in design and manufacturing make the advances in sleep science look like they're moving at a snail's pace. To stay ahead of changes in these areas, Foam Factory, Inc. has added a new machine to its fleet, capable of providing cutting-edge comfort and support products, as well as a whole new range of detailing and customization possibilities to make sure you stay ahead of the curve in your professional and personal life.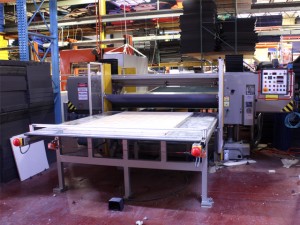 Foam Factory's new compression cutter, also known as a foam profile cutting machine, utilizes computer-routered templates to create precise contours and designs in a range of products that serve the unique needs of individual body support, personal styling preferences, or both. Blending the characteristics of a die-cutter and convoluter, the compression cutter, true to its name, compresses foam over a pre-made, custom template, while a horizontal blade passes through the foam. The varying levels of pressure created by the cutouts in a template's design result in a mirrored reflection in the foam, capable of generating patterns virtually impossible to replicate by hand. Depending on what is being manufactured, two products can be made from a single run of the machine, and by flipping the foam and replacing it over the template, a two-sided design is easily created.
These capabilities are best reflected in foam mattresses and the creation of comfort zones that provide varying levels of firmness and softness based on where the body needs it most. Areas that require the most support while sleeping, like the shoulders and hips, can receive patterns designed to provide the most support, while areas like the feet and lower legs that require cushioning can have designs to provide that as well, all in the same mattress. Foam Factory had their machine built with a custom extended table that features an operation area 79 inches wide and 85 inches long. This means even the largest bed sizes can be created with comfort-zone detailing. The cutter is able to handle foam thicknesses up to 9.8 inches in a single pass, and with the option to laminate foam materials together, mattress thickness is virtually unlimited. Mattress toppers are also cut in the same way for customizing the comfort of an existing bed or mattress.
Almost all of Foam Factory's open-cell polyurethane foam materials can be cut with this machine, including their full line of traditional open-cell foams, their three, four and five pound memory foam densities, specialty Dryfast foam for outdoor or marine uses, and versatile charcoal foam in regular or firm feels.
Foam Factory is also using their compression cutter to further the development of their acoustical foam sound treatment line. Large tiles and panels can be created and new, unique motifs are being designed to provide customers with a one-of-a-kind design for their studios or work spaces. New style offerings include basket weave Acoustic Grid, rippling Acoustic Spade, and free-flowing Acoustic Wave, in addition to their existing eggcrate, wedge, and pyramid foam sound tiles.
Foam Factory designs and produces their own templates for the cutter, using their CNC router to create the forms out of laminated particle board with computer-controlled precision. With no need to outsource the creation of these templates, lead times and costs for products are cut down and the reduced number of companies, individuals, and processes involved minimizes the potential for mistakes and delays as well. Custom templates can even be designed for customers depending on the size of the order and the feasibility of the project. For packaging runs in the tens of thousands, long-term orders that will be need to be repeated often or even for other companies that are looking to design their own products but don't have the machinery to do so, the option to have a custom template created exists.
One of Foam Factory's goals is to lead the pack in product innovation and capability, while providing products at a price that makes them accessible to everyone. The addition of the compression cutter only adds to the great value of their manufacturing capacity and product lines.