There are few holidays as enchanting and magical as Christmas. Whether it is the glitter of ornaments or the bright cheer of tiny lights, many are swept up into the charm of childhood magic once again. If you've always thought of creating your own handmade Christmas tree ornaments, start with foam!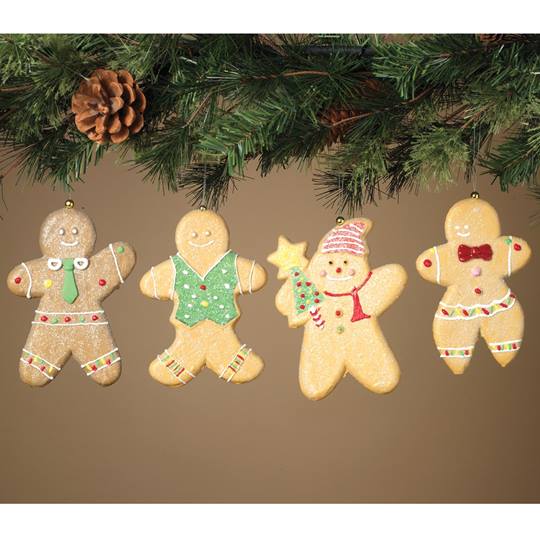 The delicacy of glass ornaments can't be denied, so if you have little ones or pets, glass ornaments can become a hazard. DIY foam ornaments have the advantage of being just as lovely to look at but safer and easier to handle.
If you're looking to make your own Christmas foam ornaments this year, we're here to help!
DIY Christmas Cookie Foam Ornaments
With mom and dad's help, these mess-free foam cookie ornaments can be a family-friendly Christmas craft for the entire family.
Supplies:
Christmas cookie cutters for templates
Brown Acoustic Foam
Dimensional fabric paint in white, red, and green
Clear glitter
Glue Gun and Glue Sticks
Scissors or Sharp Serrated Knife
Plain Paper
Silver ribbons, cut to 10″ lengths for each ornament
Silver pony beads
Instructions:
Gather your supplies in a craft-safe area to begin. Next, use your cookie cutters to press an indentation into the foam. If the indentation is too light to see, use a pen or pencil to draw the shape onto the foam.
Cut your cookie shapes from the foam using scissors or a sharp serrated knife
Apply your dimensional paint to your foam cookies, one color at a time. Let them dry between colors to ensure the paint doesn't blend together.
If you like, add the silver pony beads as a glittering detail to mimic silver cookie decorations while the dimensional paint is still wet.
Attach your 10″ silver ribbon to the back of each "cookie" with your glue gun, and voila! Enjoy your glittering foam cookie decorations!
Foam Sheet Ornaments
This affordable DIY project can create lightweight foam ornaments with no crafting or drawing talent needed. These ornaments are made from a ¼" polyethylene foam sheet, so they won't weigh down the branches of your tree at all.
Supplies:
1 sheet of ¼" thick polyethylene foam
A sharp utility or craft knife
A cutting mat, cutting board, or cut-safe surface
Festive fabric or leftover gift wrap
Acrylic paint that matches the fabric or gift wrap
Fine grit sandpaper
Paintbrushes
Glue such as Elmer's, Modge Podge, or spray adhesive
Ribbon
Large needle
Scissors
Heart, star, or any printable Christmas template
Instructions:
Find your desired Christmas ornament shapes from any of the various free printable templates found online. Print them and cut them out.
Trace your shapes onto your foam sheet.
Using a sharp craft knife, cut out your shapes.
To clean up the edges, use fine-grit sandpaper, and gently sand the edges.
Next, using your cut foam ornament, trace it twice on your Christmas fabric or gift wrap, and cut out two sides.
If the fabric is sheer enough to show the white of the foam, feel free to paint the foam a color shade that matches the fabric.
Glue the fabric or gift wrap to the foam ornament, adhering to both sides.
Once the glue has dried completely, feel free to trim up any edges with sharp scissors.
Cut pieces of ribbon between 8 to 10 inches long. Using a large needle, make a hole at the top of the foam ornament and thread the ribbon through.
Tie a knot at the top of the ornament, and feel free to hand it straight onto the tree!
DIY Snowflake Foam Ornaments
Are you looking to deck your tree out this year in the snow without the freezing temps? A foam sheet, some cutting, glue, and glitter can turn your Christmas tree into a winter wonderland!
Supplies:
• 1 sheet of polyethylene foam
• Acrylic paints in various pastel and pale blues
• Fine glitter in clear or white and shades of pale blue to match the acrylic paint
• Elmer's glue, Modge Podge, or spray adhesive
• Sharp craft or utility knife
• Free printable ornament sized snowflake
• Fine grit sandpaper
• Paintbrushes
• Several 8 – 10 inch lengths ribbons
• Needle
• Pencil or pen for tracing
How to make:
Print out your favorite free printable snowflake templates. Cut them out carefully.
Trace the shape onto your sheet foam.
With your craft knife, cut as many snowflakes as you like out of the foam.
Clean the edges of any roughness with a fine-grit sandpaper.
Lay your snowflakes on a surface that is covered with paper on a paint-safe surface.
Leave some snowflakes white, but paint others in various shades of pale icy blue. Let them dry thoroughly.
Paint glue on snowflakes and sprinkle white snowflakes with clear glitter while sprinkling matching shades of light blue glitter on painted snowflakes.
Using a needle, thread ribbon through the top of each snowflake, tie a knot at the top and go ahead and hang your snowflakes on the tree!
This year it's easy to make lightweight, handmade foam decorations to brighten up your family's Christmas tree! Get what you need from Foam Factory, Inc!