The desire to better connect with our living spaces is stronger than ever. With many of us working from home or spending more time at home, the need to make our living spaces truly comfortable and reflect a sense of ease has increased. It isn't much of a surprise to see interior décor turn toward an understanding of mystical, whimsy, and a beauty that brings about a sense of relaxation. One of the most sought-after home décor items in the last year has been the crystal or geode.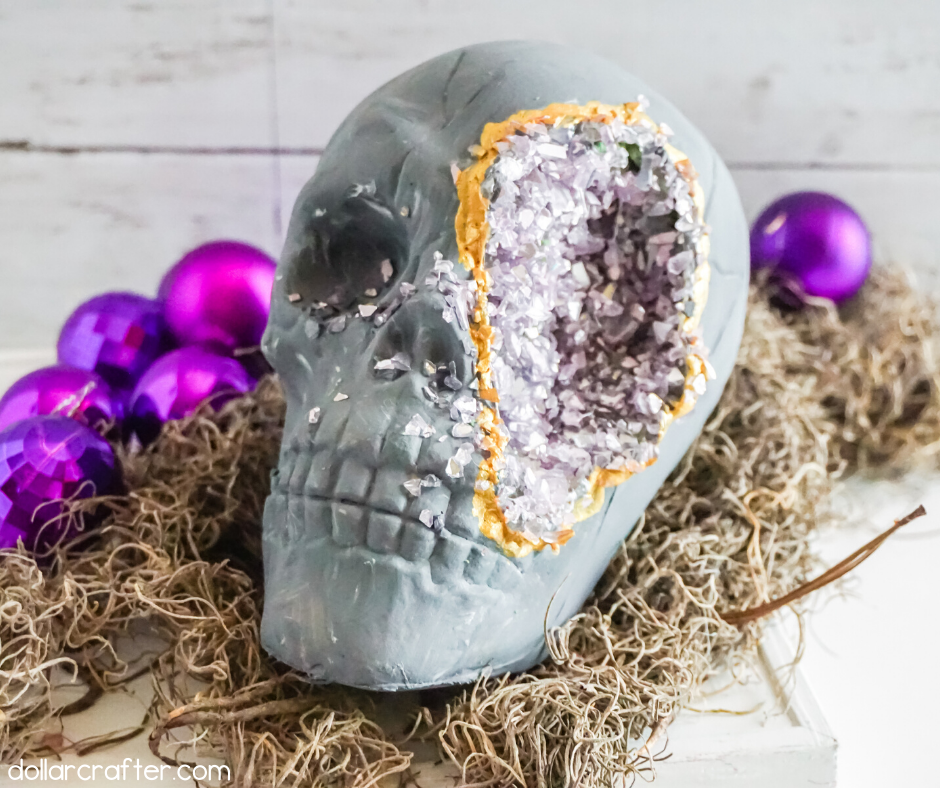 Geodes, in particular, have become embraced by interior decorators all over the world, incorporating them into the home in many forms, from lighting and accessories to artwork and wallcoverings that mimic the shapes and color patterns. Geodes are both a natural and glamourous addition to a home. They can be a large-scale accessory or a slight touch to tie a room together. Additionally, the wellness movement of the past few years has moved beyond health to cover other aspects of our lives. It's only natural that this movement finds itself in the interior design world as well.
One of the most popular home styles recently is that of the Amethyst geode or crystal. However, genuine amethyst for many of us might be a bit, or a lot, outside of our budget. Have you ever wondered if you could DIY foam project to create an amethyst home décor as gorgeous and convincing as the real thing, at a fraction of the cost?
If so? The answer is an unequivocal yes! And here's how!
Amethyst Foam Geode
Supplies Needed:
• Single Polystyrene Foam, 3lb density and 8" thickness
• Styrofoam glue, such as Camie 737 Spray adhesive (Note: Some adhesives will melt Styrene materials, so make sure you are using an appropriate adhesive).
• Acrylic paint – White, purple, black, brown, gray.
• ModPodge
• ModPodge Dimensional Magic
• Piece of Cardboard
• Small foam brush or paper towel
• Glitter Glass or Mirror glass in purple
• Serrated Knife
• Styrofoam smooth finish: low grit such as P100 and work up to a higher grit for smoothing.
• Spoon
How to Make an Amethyst Foam Geode
1. Cut your foam sheet into three even sections. Using your Styrofoam adhesive, attach each piece to form a very thick slice.
2. Allow the adhesive to completely dry. Once dried, use your serrated knife to begin to carve the shape into an oval.
3. Once you are satisfied with the oval shape, take your spoon and 'dig' out a hole inside the middle. Go slow and be careful not to dig so deep that you pierce all the way through.
4. Brush any stray pieces of Styrofoam. Take your medium grit sandpaper and gently sand the foam. Next, take a high grit until the foam has a smooth finish. Dust and wipe away residue.
5. Paint a base coat of white acrylic paint over the entire Styrofoam. Let dry completely.
6. Pour a generous amount of ModPodge into the hole you previously dug out with a spoon. Pour the glitter glass or mirror glass into the hole, gently pressing to ensure that the glass covers the sides as well.
7. Allow the glue to dry overnight wholly.
8. Gently sand only the front edges of the geode, aka the side with the hole you glued the glitter glass into. Dust any debris until clean.
9. Take your purple and white acrylic paint and apply several dots of both colors around the outer edge you sanded and wiped clean.
10. Spread the paint around the 'stone' by using the edge of a piece of corrugated cardboard. Play with the color and cardboard until you achieve a swirling, marbling effect you like.
11. Using a small foam brush or paper towel, take your undiluted purple and daub a little bit into the middle of the hole to add a bit of shadow and dimension to your geode.
12. Paint the underside and side without the hole in various shades of blacks, browns, and grays to mimic stone. Feel free to use a reference pic to assist.
13. If desired, finish your foam geode by painting a fine gold line on the outermost edge of the crystal side of the geode.
14. Place a generous amount of Dimensional Magic onto the front of the stone (but not the hole) and allow it to dry completely. Once dry, coat with Dimensional magic once more for a thick, glossy layer, and voila! Enjoy your very own DIY amethyst foam geode!
Amythest Foam Crystal Cluster
• Polypropylene or Polystyrene foam or foam scraps size and thickness to your preference. (Larger crystals = larger and thicker foam pieces.)
• Square, or a metal tool with straight measurement edges and 90-degree angle preferable.
• Fine tipped marker for making guidelines.
• Hot Styrofoam cutter or serrated knife and a sharp utility or craft knife. If using a hot blade, please ensure you use a face mask.
• Visual guide: images of crystal clusters to help visualize your idea
• Acrylic paint. White for base and highlights, and then purples for amethysts (or any color you like)
• Paint brushes large and small
• Styrofoam safe adhesive (optional for gluing small foam pieces together to create larger sized crystals)
• A sturdy base, such as a piece of wood or flat surface to adhere foam crystals to.
How to create an Amythest Foam Crystal Cluster
1. Begin by measuring out a straight line to cut across your foam. This line can be as long and as wide as you like. Using your pen or sharpie to mark the line and cut with the hot wire cutter or serrated knife.
2. Now that a long strip of foam has been cut, begin to make marks a quarter of an inch to an inch in from the sides. These are rough guide markers to help you cut the foam into octagonal prism shapes resembling a crystal. These are rough starting and endpoints, as the carving of these crystals is free cutting. Begin by carefully shaving off the square edges with a serrated knife for this octagonal shape. Once you have the form carved, feel free to cut the strip into smaller 'crystals' of different lengths or leave it as is for larger ones and repeat steps 1 and 2 for more crystals.
3. Don't worry about any uneven or rough cuts. This adds to the 'natural' formed look of these foam crystals. Next, begin to shape the tops of your crystals. Begin by choosing a level height to start the top from, and cut at the four cardinal sides from that mark upward. Repeat this with the remaining sides, and don't be afraid to keep your cuts random. You should have a crystal top with random facets.
4. That's it for carving! You've made the crystal forms. Now it's onto painting them.
Painting your Foam Crystals
• For ease of painting, you may want to skewer your foam crystals onto a straw, chopstick, or thin piece of wood.
• Begin by placing your paints into a palette, starting with a generous amount of white and, for the amethyst crystals, purple. Next, mix a little purple with white for a light shade. A little more purple with less white for a middle purple shade.
• Begin by painting the lowest points of the crystal faces, or facest, with the darkest undiluted purple following the edges.
• Paint the middle, near to the top with your mid-purple shade.
• Along the tops of each crystal facet, where the light would hit, paint it with your lightest purple shade.
• Do this step for each crystal side or 'facet' and let dry.
• Finish the crystal by taking a fine brush, and follow the very edges of the crystal with a fine white line.
• Repeat these painting steps for each crystal.
• Let your crystals dry entirely. You can choose to finish it with a glossy Styrofoam safe topcoat or glue the crystals onto your sturdy base and enjoy your 'amethyst crystal formations!
At Foam Factory, Inc., we sell foam; we love everything about it! From its near-endless creative uses to practical everyday use in our lives. From packaging your precious goods to decorating your home, we'll have everything you need and more!