The desire to better connect with our living spaces is stronger than ever. With many of us spending more time at home, the need to make our living spaces truly comfortable has increased. It isn't much of a surprise to see interior décor trends begin to focus more on mystical vibes. One of the most sought-after home décor items in the last year has been the crystal or geode, to offer a more natural, relaxing feel.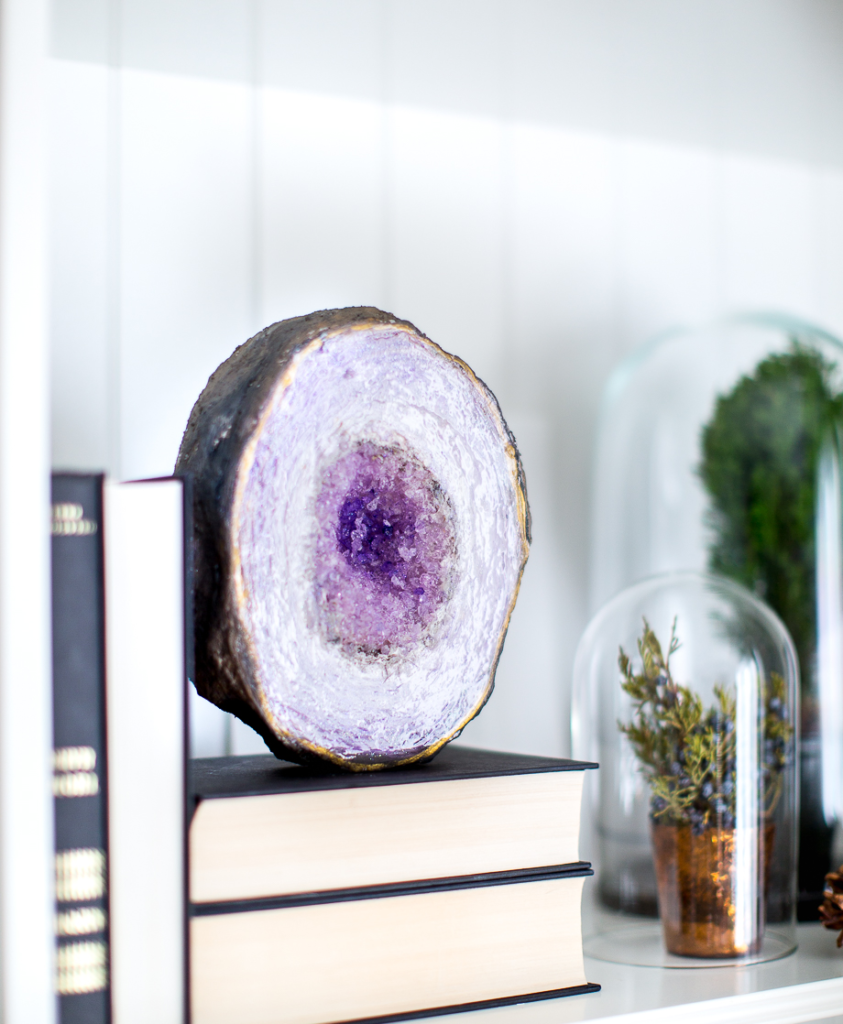 Recently, geodes have been embraced by interior decorators all over the world. They can be incorporated into the home in many forms, shapes, and patterns.  Geodes are a natural and glamourous addition to a home. They can be a large-scale accessory or a slight touch that ties a room together. Additionally, the wellness movement of the past few years has moved beyond health to cover other aspects of our lives. It's only natural that this movement finds itself in the interior design world as well.
One of the most popular geodes is amethyst. Genuine amethyst, for many of us, may be a bit outside of our budget. Believe it or not, you can actually start a DIY foam project to create amethyst home décor that is as convincing as the real thing at a fraction of the cost!
Amethyst Foam Geode
Supplies Needed:
3LB Polystyrene Foam, Single – 24" x 48", 8" thickness
Polystyrene glue, such as Camie 737 Spray adhesive (Note: Some adhesives will melt Styrene materials, so make sure you are using an appropriate adhesive).
Medium Grit & High Grit Sandpaper
Acrylic paint – White, purple, black, brown, gray. 
ModPodge
ModPodge Dimensional Magic
Piece of Cardboard
Small foam brush or paper towel
Glitter Glass or Mirror glass in purple
Serrated Knife
Foam coating, such as Smooth Finish, to give rough surface a smooth, easily paintable surface.
Spoon
How to Make an Amethyst Foam Geode:
Cut your foam sheet into three even sections. Using your Styrene-friendly adhesive, attach each piece to form one thick piece
Allow the adhesive to completely dry. Once dried, use your serrated knife to carve the shape into an oval, but try to leave some uneven areas to make this look like a rock.
Once you are satisfied with the oval shape, take your spoon and 'dig' a hole into the middle. Be careful not to dig so deep that you pierce all the way through.
Brush off any stray pieces of Styrofoam. Take your medium grit sandpaper and gently sand the foam. Next, take a high grit until the foam has a smooth finish. Dust and wipe away residue.
Paint a base coat of white acrylic paint over the entire Styrofoam. Let dry completely.
Pour a generous amount of ModPodge into the hole you previously dug out with a spoon. Pour the glitter glass or mirror glass into the hole, gently pressing to ensure that the glass covers the sides as well.
Allow the glue to dry overnight wholly.
Gently sand only the front edges of the geode, aka the side with the hole you glued the glitter glass into. Dust any debris until clean.
Take your purple and white acrylic paint and apply several dots of both colors around the outer edge you sanded and wiped.
Spread the paint around the 'stone' by using the edge of a piece of corrugated cardboard. Play with the color and cardboard until you achieve a swirling, marbling effect you like.
Using a small foam brush or paper towel, take your undiluted purple and dab a little bit into the middle of the hole to add a bit of shadow and dimension to your geode.
Paint the underside and side without the hole in various shades of blacks, browns, and grays to mimic stone. Feel free to use a reference pic to assist.
If desired, finish your foam geode by painting a fine gold line on the outermost edge of the crystal side of the geode.
Place a generous amount of Dimensional Magic onto the front of the stone (but not the hole) and allow it to dry completely. Once dry, coat with Dimensional magic once more for a thick, glossy layer, and voila! Enjoy your very own DIY amethyst foam geode!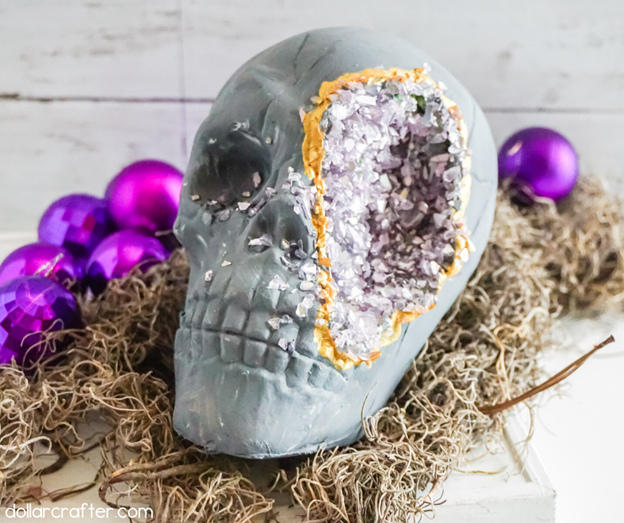 Carved Amethyst Geode Skull
Supplies Needed:
A hollow plastic skull
1 cup of crushed glass vase filler
Acrylic paint
Poly foam
Dacron Fiberfill
Craft knife or box cutter
Paint brushes, large and small
Foam adhesive
How to Create a Carved Amethyst Geode Skull
Cut a hole on one side of the skull from the forehead to the teeth, this is the hole where you will place the foam inside the skull.
Fill the hole in the skull with Dacron first to hold the foam in place, then put the Poly foam inside. Insert the foam in small sections at a time, gluing each layer before moving to the next. Fill as much as possible to give yourself a solid surface to work with.
Don't worry about any uneven or rough cuts. This adds to the 'natural' formed look of these foam crystals. Next, add a 3" x 3" dab of glue on top of the foam, and immediately add the glass filler until the glue dries.  Shake off extra bits of glass.
Repeat until all of the foam is covered in glass fillers
Paint the skull a dark charcoal color (or any color you like) using acrylic paint, and allow it to dry.
If desired, you can glue some additional glass filler around the face with glue to make it look like the pieces are spilling out of the skull.
Display your artistic skull wherever you like!
At Foam Factory, Inc., we sell foam; we love everything about it! From its near-endless creative uses to practical everyday use in our lives. From packaging your precious goods to decorating your home with a DIY craft, we have everything you need and more!