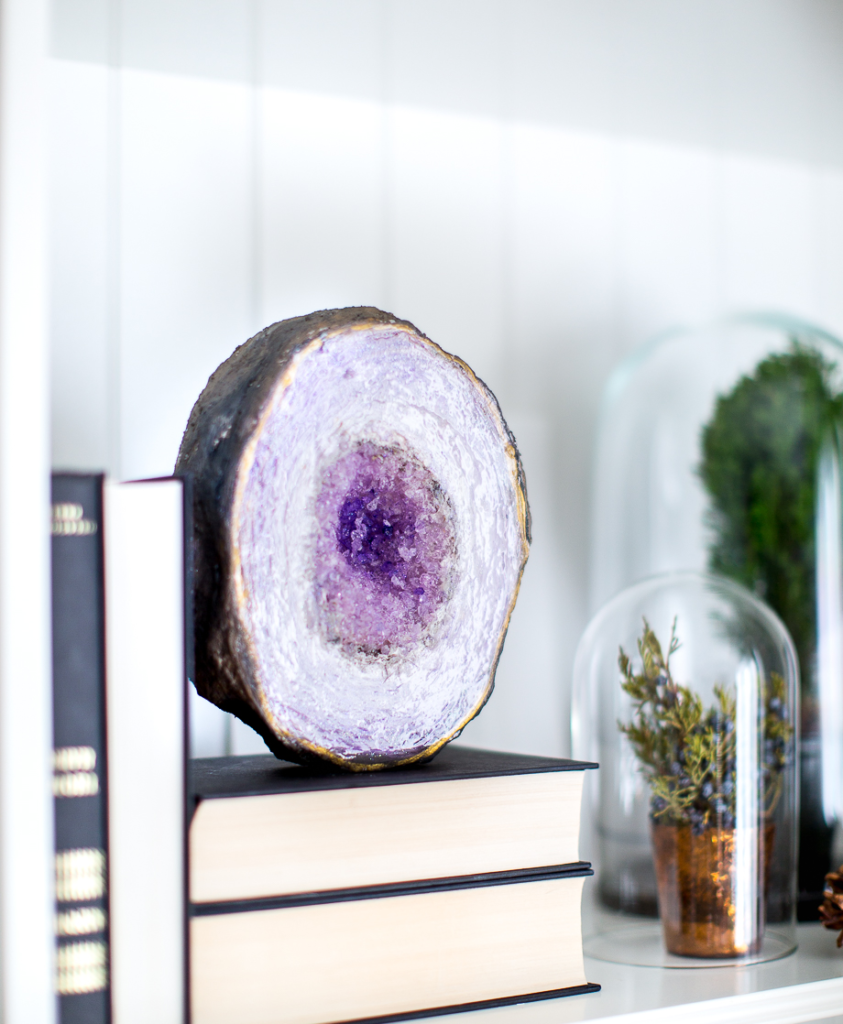 Geodes are popular decorations because they are beautiful and unique. Each geode is different in shape, size, and color, which makes them a one-of-a-kind addition to your collection. Amethyst is a popular choice for home decor that is not just wonderful to look at but also used for calming meditation practices. Unfortunately, real minerals like amethyst can be pricey, but did you know that you can create a stunning geode of your own? With foam, you can make your own DIY geode that's bursting with gorgeous faux crystals. Try this project out if you want to create art of the natural world and bring a luxury decoration into your home or as a handmade gift.
Here are the supplies you need to get started:
3 lb. of

polystyrene

foam

, single (we recommend a piece that is 24" x 48", 8" in thickness).
Polystyrene glue (we recommend Camie 373 Spray Adhesive )

Acrylic paint (try to get white, purple, black, brown, and gray, but don't be afraid to add a little extra color if you want to make something a bit more stylized and personal).

ModPodge

ModPodge Dimensional Magic
Foam coating (this will make a rough surface easier to paint).

Glitter glass

Medium grit sandpaper

High grit sandpaper

Paper towel or small foam brush
Serrated Knife

Spoon

Piece of cardboard
Once you've gathered your supplies, follow these steps to make your own geode:
Cut your sheet of foam into three even sections.

Glue these pieces on top of one another with polystyrene glue to make one thick piece of foam.

Once the adhesive is completely dry, take your serrated knife and carve your large piece of foam into an oval. Imperfection is key; uneven and bumpy edges will make it look more like a rock.

With your spoon, dig a hole into the middle, but not through to the other side.

Wipe away excess foam and gently sand with medium grit sandpaper.

Use high grit sandpaper to create a smooth finish, while wiping away excess foam and residue.

Coat your foam with white acrylic paint as a base and let dry.

Pour your ModPodge into the hole you dug out with your spoon.

Coat the hole with your glitter glass and press gently to cover all of the sides, then let this dry overnight.

Sand the front side, the side with the open whole, with medium grit sandpaper, and clean off any excess foam.

Sporadically dot and dab on this front side, outside of the whole, with white and purple acrylic paint.

Use the thin, corrugated end of your cardboard as a brush to spread this paint around the flat end of the geode. This will create a marbling effect with your purple and white paint and give your project a more natural look.

With your paper towel, or foam brush, dab just a little bit of purple paint into the center of the hole. This will add an extra dimensional layer to the piece by creating a synthetic shadow.

Paint the rounded, hole-less sides of the geode with brown, gray, and black. A reference picture might help you to more accurately capture the look of a geode.

Either with gold or another color you like, you can paint a fine line onto the outermost edges of the hole-side to add your flair.

On the front of the stone, but not in the hole, coat the area with ModPodge Dimensional Magic. When it dries completely, add another coat of Dimensional Magic. This will add a layer that is thick and glossy, looking just like a real geode!
Now you have your very own amethyst geode and never need to worry about it falling and shattering! There are dozens of projects that use foam and a little knowledge to create shapes and items you would never associate with it. Try out your own DIY foam amethyst project today! If you have any foam questions, please feel free to Contact Us directly!