With so much changing this year, unfortunately, family holidays are not spared in the era of the coronavirus. This leaves many families scrambling and wondering what to do in the next few weeks as far as finding safe ways to gather together. There are many suggestions being put out from not gathering at all to gathering outside only for a few hours. If you choose to gather but want to ensure it is outside, we have the perfect tips for creating an outdoor holiday gathering area.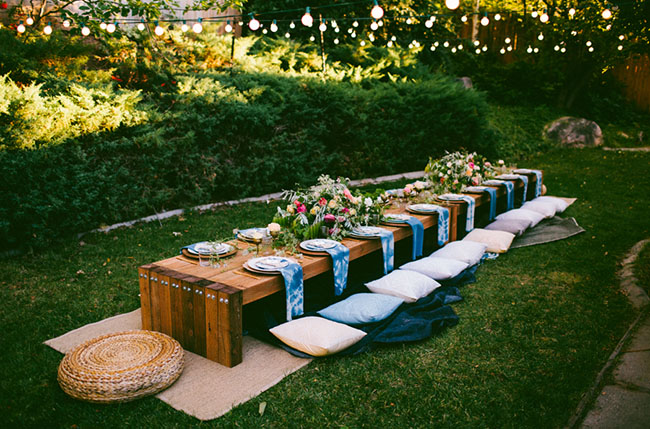 Setting the Table
If your family is coming from different states or even across the state, you'll want to leave around 6 feet in between tables. So grab your tape measure and start measuring where you can place tables for each grouping. If you have several families coming to join, you can note which table is for which with a cute table decoration or even name tags made for each seat. Whether you are using folding tables to accommodate everyone or you are able to pull out picnic tables, this is a great way to ensure people can eat together in a safe way.
However, you may find that the chairs are not the most comfortable, whether you are using lawn chairs or trying to make a wooden bench work. Luckily, there's a quick fix for that and that's in a foam seat cushion. These are easy to DIY, and we offer a variety of foams that will work perfectly for your needs. We have Dryfast foam options that are perfect if you are concerned about them getting wet, as well as comfortable options that will last despite the sun's rays. We even have measurement guides to help you along the way. Just get some fun fabric for the occasion and use your sewing machine to get yourself seat cushions in no time.
During the Meal
One way to serve the meal this year is with individual plates plated and served by one member of the host family who wears a mask. You can put a cover over each plate to make it more festive and set it out ahead of time. The cover will help to keep the food warm. Another option is to have someone plate the food right before eating, and have one person take it out to each person.
After the Meal
If you want your family and friends to stick around for a while, set up 6 feet sectioned off areas for them to relax in. Large cushions placed on the ground can be a comfortable way for people to sit and stay comfortable while catching up on the year and what might have been missed. Another great option for lounging outside is foam filled sacks. These are comfortable and perfect for relaxing and come in a variety of sizes. To make it even easier, we have foam sacks ready to be filled and offer the filling as well.
Handwashing Station
Set up a cute handwashing station for your attendees using a water dispenser, a bucket, and some fall scented soaps on another table. This can be decorated with festive flowers or pumpkins and is perfect for your guests to wash up before dining. Include single use towels to dry their hands and have a wastebasket right next to the table for easy disposal.
We know how important the holidays are to many families and we wish you all a happy and healthy holiday season!