In the era of coronavirus, even family holidays have not been spared. This has left many families scrambling to find safe ways to gather together again. Many suggestions have come out on how to keep family get-togethers safe. If you choose to meet, but want to keep things outside, we have the perfect tips for creating an outdoor holiday gathering area.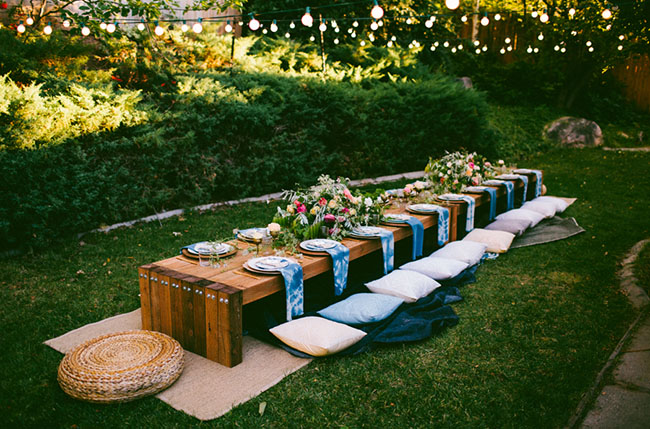 Setting Up the Table
If your family is traveling from a distance to visit during the pandemic, you'll want to leave around 6 feet between tables for social distancing. Grab your tape measure and start measuring where you can place tables safely. If you have several families coming to join, you can mark the tables by using a cute table decoration or name tags made for each seat. Whether you are using folding tables or picnic tables to accommodate your family, this is a great way to ensure people can eat together in a safe way.
You may find that your chairs are not as comfortable as you or your family would like. Luckily, there's a quick fix! You can create comfortable seating for everyone by adding foam seat cushions. We offer a variety of foam types that make creating new DIY cushions easy. If these cushions are going outdoors, we even offer our marine grade Dryfast foam. This foam is perfect if you need something that is anti-microbial and holds up well to weather. To assist with your project, we even offer helpful Do-It-Yourself guides on our website. To finish off your cushions, grab some fun fabric, and use your sewing machine to make them just the way you want!
During the Meal
To safely serve the meal, it is best to use individual plates and have one mask-wearing member of the host family distribute the food. You could also set each plate out in advance by putting decorated covers over them to keep things festive. The cover will help to keep the food warm. Still looking for serving options? Have one person dish up the food right before eating, and have another person take it out to each guest individually!
After the Meal
If you want your family and friends to stick around for a while, set up sanctioned areas for them to relax in! Large cushions placed on the ground can be a comfortable way for people to sit and catch up on life. Another great option for lounging outside is foam filled sacks. These are perfect for relaxing, and they come in a variety of sizes and colors. To make it even easier, we at The Foam Factory offer foam sacks filled and ready for use!
Handwashing Station
Set up a handwashing station for your attendees using a water dispenser, a bucket, and some scented soaps on a separate table. This can be decorated and is perfect for your guests to wash up before dining. Include single use towels to dry their hands, and have a wastebasket right next to the table for easy disposal.
We know how important the holidays are for many families, and we wish you all a happy and healthy holiday season!