Features
For maximum sound absorption, the 4 inch wedge foam is the product for the job. Excellent at absorbing low frequency waves, it provides maximum deadening capability and functions in the largest areas like gyms or concert halls.
Details
Acoustical Performance Data
Overall NRC: 0.80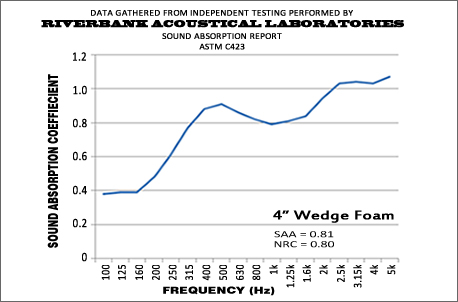 To view the full PDF report of our acoustical test results, see the resources section (below).
Flammability Test Results
Classification: Class A
Flame Spread Index: 25
Smoke Developed Index: 250
Resources
Notes
Manufacturing Tolerances
Products may carry a size tolerance depending on the style and job. Please see our Tolerance Table.

Color Availability
Size and quantity selections will affect color option availability.
Reviews
Ian Knox | May 31st, 2023
This foam has been amazing for my studio. It does a great job of keep the room sounds nice and dense. Best purchase I have made!!!!!!
Shemmy | October 24th, 2022
My room is not soundproof and it has a open space to the kitchen but that didn't stop the 4" foam from doing its job. This is the best best thing you can get for your studio. I used this in a living room medium sized. I use the 2" and 4" highly recommended
JEFF | August 1st, 2022
The quality is good and they shipped quickly! Very Happy!
Richard | May 25th, 2022
I have used the 1", 2" 3" and 4" wedges from The Foam Factory and couldn't be happier with the results or the price.
Dylan | March 29th, 2022
I've been using this foam as a speaker baffle/air separator in my ceiling. It works great for my particular situation! Excellent pricing too!
P Hanley | March 18th, 2020
Nice look seems to be good performance for foam, and was packaged and shipped with care. Have bought subsequent products and I am please with all of them.
Mario | June 12th, 2019
Ordered the 48pk 4inch acoustic foam. For the price, its a deal!!! Can't wait to order some more and finish up my room!!