Features
Capable of soundproofing any size room, 3 inch wedge foam is fantastic all-around sound absorbing foam. When used in conjunction with corner bass absorbers and male/female broadband absorbers, it performs even better.
Details
Acoustical Performance Data
Overall NRC: 0.75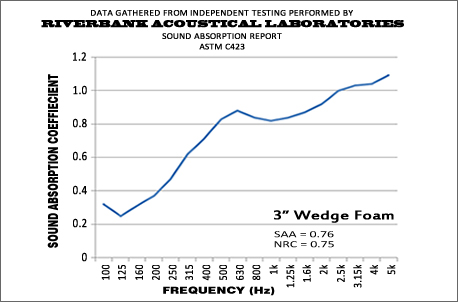 To view the full PDF report of our acoustical test results, see the resources section (below).
Flammability Test Results
Classification: Class A
Flame Spread Index: 25
Smoke Developed Index: 250
Resources
Notes
Manufacturing Tolerances
Products may carry a size tolerance depending on the style and job. Please see our Tolerance Table.

Color Availability
Size and quantity selections will affect color option availability.
Reviews
Todd Deane | March 29th, 2023
Purchased the 3'' 2'x4' wedge and they are working wonderfully really helps absorption and reflections of higher frequencies. Definitely recommend and will be purchasing more soon!
Greg Matson | July 10th, 2020
I highly recommend these. The quality is high and their customer service is excellent! I plan to buy more from Foambymail, probably next will be a latex mattress and memory foam topper. Great prices!
Dennis Brown | March 22nd, 2020
The 3" acoustic wedge panels work great and look great. I bought the 1 foot square panels and glued them to 2' x 4' 1/4" plywood boards using Scotch spray adhesive. These are very nice quality panels at a very good price. Highly recommended.
mordechai chaimovitz | November 8th, 2019
I just got 60 3 inch wedge panels for my studio. they were packaged very well, and were ready to be put up right out of the box despite being vacuum packed. my room has significantly less high freq distortion and echo. the panels were sturdy and well made. they are not as thick/dense as the foam on my name brand foam products but they really improved the sound of my room in a MAJOR WAY. ( i had done some research on where to hang them and that was a game changer too) they do have a foamy kind of chemical smell but i imagine it will air out soon. bottom line, my room looks great and sounds great and i am very very happy. i recommend this product.
John Martin | May 29th, 2019
All around excellent experience, from requesting color samples, to ordering, to receiving product, to the quality the of foam not to mention the reasonable prices. My drum studio looks great with 3"x 24" x 48" acoustic wedge foam adhered to pegboard panels. Glue up was a breeze! My 3rd order from Foam Factory...consistently excellent.
Chris H | May 9th, 2019
After my purchase, I was contacted by Foam Factory to make sure I was satisfied and was given a link to this survey. I was shocked that nobody has left a review yet... I guess I'll be the first! I did a lot of price to value shopping before I bought the materials to dampen my new drum studio. Compared to every other site or outlet I could find, Foam Factory BY FAR was the best quality and best deal. For comparison, 28 3" 12x12 foam wedges on Amazon was roughly $125-150 for 'decent' quality stuff with decent reviews. I bought 48 3" 12x12 wedges for less than $90 from Foam Factory! That's 12 extra wedges for $40-50 less and the quality is fantastic! They also have the best deal on bass traps and corner wedges from what I could find available to the public. The quality is also bar-none. While my wedges/traps did come vacuum shrunk and slightly squished they expanded to normal size in less than a day (took about 12 hours) and hold their shape perfectly. They also do not have any odor like some of the cheaper brands. Anyway, my advice is to stop looking, this is the place to buy from!