Features
For basic soundproofing, 1 inch wedge foam provides moderate sound control on walls or ceilings. This product is best for when absolute sound deadening is not required, but moderate deadening is desired. 1 inch wedge foam is most effective on mid-to-high frequency ranges.
Details
Acoustical Performance Data
Overall NRC: 0.40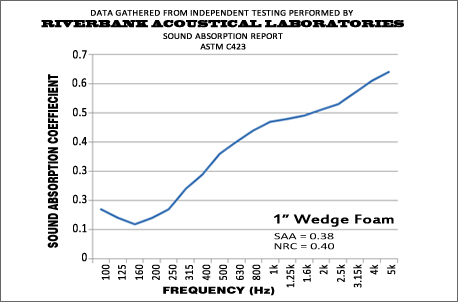 To view the full PDF report of our acoustical test results, see the resources section (below).
Flammability Test Results
Classification: Class A
Flame Spread Index: 25
Smoke Developed Index: 250
Resources
Notes
Manufacturing Tolerances
Products may carry a size tolerance depending on the style and job. Please see our Tolerance Table.

Color Availability
Size and quantity selections will affect color option availability.
Reviews
Richard Alexander | December 11th, 2019
Foam pads was as described Great Product fast Shipping