Features
2 inch wedge foam is effective against standing waves and flutter echoes in most small-to-medium sized rooms like vocal booths, control rooms and studios. It also functions as a full frequency bandwidth absorber for any size room when used in conjunction with corner bass absorbers and male/female broadband absorbers.
Details
Acoustical Performance Data
Overall NRC: 0.65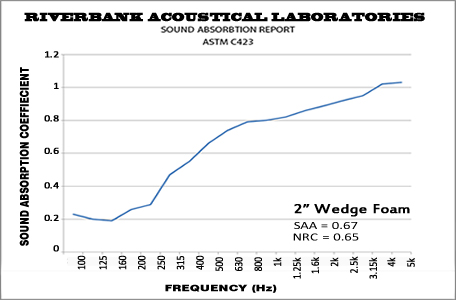 To view the full PDF report of our acoustical test results, see the resources section (below).
Flammability Test Results
Classification: Class A
Flame Spread Index: 25
Smoke Developed Index: 250
Resources
Notes
Manufacturing Tolerances
Products may carry a size tolerance depending on the style and job. Please see our Tolerance Table.

Color Availability
Size and quantity selections will affect color option availability.
Reviews
Sean Penzo | July 26th, 2023
I just recently finished sound treating my studio, foam factory foam was the most impactful aspect. Some 2 inch foam and corner traps were the last touch I needed to create a beautiful studio sound out of a terribly boomy room.
Jimi | January 25th, 2023
The foam panels came the next day and were not crushed or flattened. They are just the right size and width. Will order more soon to complete my home studio!
Darian | January 19th, 2023
Just what the doctor ordered. Best quality foam on the market.
Zerk | September 29th, 2022
I've been using Foam Factory for 7 years. I've designed 7 recording studios using Foam Factory. They are literally the best and most affordable professional acoustic treatment choice anywhere. I used to pick up orders in person when I was in Michigan. I've lived in many different states since then and still have it shipped across the country. Highly recommend this company!
Brian Imparato | June 20th, 2022
I mounted 48 panels on 2'x3' presentation boards to hang on my classroom walls. They have done wonders to reduce the noise that carries from my classroom into the neighboring class. Our cinderblock walls do nothing to stop sound. Foam arrived in great condition and the burgundy color makes it look sharp.
Susan | May 19th, 2022
2" foam acoustic tiles
JB | April 18th, 2022
Very nice acoustic foam. It's dense and did a great job absorbing sound in my studio. Great company!
Cecilia Claire Goldey | March 22nd, 2022
It is so satisfying to deal with a company who offers great Acoustic Foam products that are cut with precision. Customer service is great.
Vern Ray Beachy | January 10th, 2021
I am converting a small bedroom in my basement to a voice over recording studio. I am putting these acoustic panels on the walls and they are of good quality and density I need.
David Thomson | August 12th, 2020
The shipment arrived 10 days after I placed the order and the quality looks good. For the price, these are the best 2" wedges I've found.
Michael | March 11th, 2020
My days of professional radio/TV work are long gone, replaced by regular videos for YouTube. I saved heaps buying this product and making my own acoustic sound box to sit on my desktop - with plenty left over to make an acoustic cage for the PC under the desk and cut down fan noise. Box measures 18x16x16 outside with foam cut and spray-glued inside. Plenty room for Samson or Blue Yeti Pro mics on small tripod stand. Sound improvement is excellent. .
Joseph | January 24th, 2020
The whole process was rather quick with shipping. But the order processing could have been a little quicker. But to the companies defense, in the disclaimer it states that there is a waiting period. I was completely satisfied with the order and the quality of the product and that the fact that my mind was blown away when I got the box and in packed the foam. 48, 1 foot square squares of 2 inch acoustic foam in a 16in by 20in box. Cant recall the actual dimensions of the box. Also what made me go with this company is that they had all of their foam tested and so forth. Some of the other companies didn't have that type of info. I will be a returning customer. I plan on getting some more foam because I ran out and need some bass traps. Also I was able to get rid of that flutter echo in that stair well as well.
John | September 5th, 2019
This is my second experience with The Foam Factory! Service has been great, and their products have helped me create the sound environment I need for a new studio!
cole | July 10th, 2019
this is a wonderful product for such a great value! i would recommend anyone looking for sound absorption material to get some! i'm very pleased! keep up the good work, foam factory!
Monroe Patterson | June 20th, 2019
Love this product extremely affordable does exactly what its supposed to do glad I came across this product thanks will shop again
karo gharapetrian | May 15th, 2019
I'm loving my new acoustic foam treatment for my studio! The packaging was nicely wrapped and compressed, assuring the product's safety and quality. After 36 hours I started placing the foam on the walls and I couldn't be happier with the results! Foam Factory really took care of my needs and I would recommend them to all my friends!