Features
For maximum sound absorption, the 4 inch pyramid foam is the product for the job. Excellent at absorbing low frequency waves, it provides maximum deadening capability and functions in the largest areas, like gyms or concert halls.
Details
Acoustical Performance Data
Overall NRC: 0.65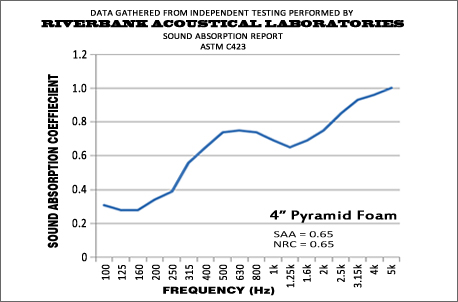 To view the full PDF report of our acoustical test results, see the resources section (below).
Flammability Test Results
Classification: Class A
Flame Spread Index: 25
Smoke Developed Index: 250
Resources
Notes
Manufacturing Tolerances
Products may carry a size tolerance depending on the style and job. Please see our Tolerance Table.

Color Availability
Size and quantity selections will affect color option availability.

Pyramid vs. Wedge Absorption
To create the pyramid style, this foam must pass through our machine twice, resulting in a higher cost than the wedge for a more visually pleasing product. With less overall mass than our wedge foam, it provides about 76 percent as much absorption than the wedge, but has a better diffusion rate.
Reviews
Jeff Stewart | June 10th, 2022
I went with the 4" pyramid foam inside my booth. This stuff is absolutely perfect for a vocal booth, and the service was fast, professional, and without any hassle whatsoever. If you need acoustic foam, look no further!