Features
For basic soundproofing, 1 inch pyramid foam provides moderate sound control on walls or ceilings, especially ones not parallel to the floor. This product is best for when absolute sound deadening is not required, but moderate deadening is desired. 1 inch pyramid foam is most effective on mid-to-high frequency ranges.
Details
Acoustical Performance Data
Overall NRC: 0.35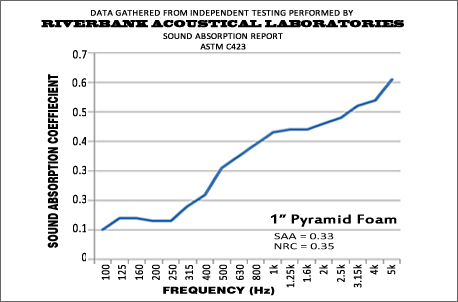 To view the full PDF report of our acoustical test results, see the resources section (below).
Flammability Test Results
Classification: Class A
Flame Spread Index: 25
Smoke Developed Index: 250
Resources
Notes
Manufacturing Tolerances
Products may carry a size tolerance depending on the style and job. Please see our Tolerance Table.

Color Availability
Size and quantity selections will affect color option availability.

Pyramid vs. Wedge Absorption
To create the pyramid style, this foam must pass through our machine twice, resulting in a higher cost than the wedge for a more visually pleasing product. With less overall mass than our wedge foam, it provides about 76 percent as much absorption than the wedge, but has a better diffusion rate.
Reviews
Tony ATL | September 12th, 2022
After working from home for 8+ years, I looked into many options for redoing my home/basement office. I looked at a drop ceiling with acoustic tiles, but decided that the 1" foam was a better option. I can't believe how well and easily this foam worked. I stapled the ceiling into place and recently ordered more to spray glue to the concrete walls. Even with just the ceiling covered, it has made a huge improvement to blocking almost all floor noise and echoes. The room is completely quiet. It has been perfect for video calls and web broadcasts. Foam Factory had by far the best value in foam padding. I've used their other products for different projects and have always been happy.