Features
2 inch pyramid foam is effective against standing waves and flutter echoes in most small-to-medium sized rooms like vocal booths, control rooms and studios. It also functions as a full-frequency bandwidth absorber for any size room when used in conjunction with corner bass absorbers and male/female broadband absorbers.
Details
Acoustical Performance Data
Overall NRC: 0.45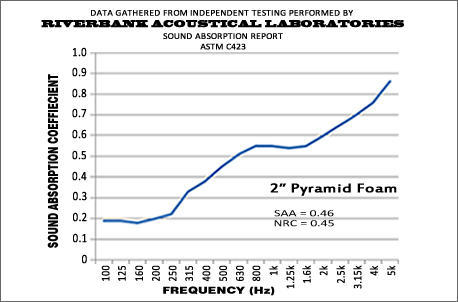 To view the full PDF report of our acoustical test results, see the resources section (below).
Flammability Test Results
Classification: Class A
Flame Spread Index: 25
Smoke Developed Index: 250
Resources
Notes
Manufacturing Tolerances
Products may carry a size tolerance depending on the style and job. Please see our Tolerance Table.

Color Availability
Size and quantity selections will affect color option availability.

Pyramid vs. Wedge Absorption
To create the pyramid style, this foam must pass through our machine twice, resulting in a higher cost than the wedge for a more visually pleasing product. With less overall mass than our wedge foam, it provides about 76 percent as much absorption than the wedge, but has a better diffusion rate.
Reviews
Rob | March 21st, 2023
Foam is everything I hoped it would be.
w h logan | October 5th, 2022
got pyramid foam 6 - 2x4'. I have 2 12' subwoofers along with 4 tower speakers in a 7.2 surround sound that needed muting of secondary and thereafter sound bouncing. These worked very well. I didn't want to go "overboard" with tons & tons of sound muting material (completely) messing up the charm & décor of the room hence a somewhat difficult task
Josh Kinney | September 28th, 2022
I bought the burgundy foam and it turned out amazing. so much easier to install vs the 1' squares!
Ewa Opasinski | July 27th, 2022
I dont need this material for acoustical reasons but rather for its texture, Im a designer and wanting to make a cool pattern on a wall in one of my projects. I already received the large panels and loving it.
John Nussmeier | December 5th, 2019
2 inch pyramid acoustic foam: (4) 72 x 48 burgundy (2) 72 x 48 charcoal (6) 48 x 24 charcoal (6) 48 x 24 burgundy