Features
Capable of soundproofing any size room, 3 inch pyramid foam is fantastic all-around sound absorbing foam. When used in conjunction with corner bass absorbers and male/female broadband absorbers, it performs even better.
Details
Acoustical Performance Data
Overall NRC: 0.50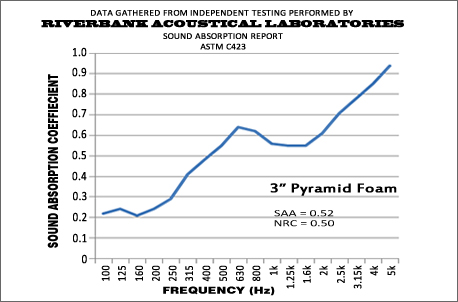 To view the full PDF report of our acoustical test results, see the resources section (below).
Flammability Test Results
Classification: Class A
Flame Spread Index: 25
Smoke Developed Index: 250
Resources
Notes
Manufacturing Tolerances
Products may carry a size tolerance depending on the style and job. Please see our Tolerance Table.

Color Availability
Size and quantity selections will affect color option availability.

Pyramid vs. Wedge Absorption
To create the pyramid style, this foam must pass through our machine twice, resulting in a higher cost than the wedge for a more visually pleasing product. With less overall mass than our wedge foam, it provides about 76 percent as much absorption than the wedge, but has a better diffusion rate.
Reviews
GM | August 24th, 2022
This stuff is THICK and padded - it really cuts down on reverb. It was easy to fluff up after removing it from the vacuum-sealed packaging, and it stuck easily (I used blue painter's tape on the wall, put Gorilla Glue on the tape, and stuck the foam to the glue.) They look professional and do what they're advertised to do.
Christopher Scott | October 4th, 2020
I love this stuff! I basically have my studio, more or less, completely covered with this 3" Pyramid Foam and it works incredibly. Stepping into my studio feels like walking from a hallway covered in hard smooth surfaces to the interior of a nice car! There is virtually no reverb at all! Fun Fact: Every time someone steps into my studio for the first time, they are absolutely shocked by the sound difference. It's actually very entertaining to see the confusion on their face as they try to understand what is "different" in the room they just stepped into. When I am recording and getting really loud I can hear there is almost no reverb in the room, but I can actually hear it in the hallway outside (this doesn't pick up on my microphone) which is pretty interesting to hear. I can still hear some lower frequencies (bass) reverbing in the room, as my voice can get pretty deep, but the higher frequencies are nearly nonexistent. What high frequencies you can hear are certainly negligible. The Wedge Foam would definitely be better at trapping lower frequencies as it is more dense, but the Pyramids make sound waves reflect in different directions (diffusion) and have a very aesthetically pleasing. If I could start over knowing what I do now, I would probably do either a 70/30 Pyramid/Wedge ratio. It would probably be dead silent in my studio if I did that. In case anyone is wondering, I glued my foam, using adhesive spray (3M 90), to 5mm coroplast sheets and used 3M double sided adhesive hanging strips (the ones meant for posters) about 4 per piece of foam. This works great and if I ever want to take them down, I can easily remove the strips and still have the Foam safely attached to the coroplast. Overall, I'm very satisfied with my purchase as what remnants of reverb remain are so minor they don't even pick up on my mic when I'm recording. And, this is just personal preference, but I went for 3" because I felt it was the perfect middle ground between quality, function & aesthetics. 4" would certainly "work better" but 3" gave me more Pyramids at a still decent size, which I felt was more important than having bigger pyramids (since I'm not making a theater of any kind). For the quality, price and how well this product functions, it's a great deal and I would recommend it to anyone looking to soundproof a space. I would be absolutely shocked if you were disappointed (but if you are doing "bass heavy" stuff, maybe consider mixing some 3" Wedge Foam into your soundproofing).