2-1/2" Acoustic Eggcrate Foam - Charcoal - 72"x80"
$51.99
Features
For people who want the increased sound-deadening qualities of 2-inch wedge foam, eggcrate foam performs well while saving you money. With our 2 1/2-inch charcoal eggcrate foam, you achieve the effect you need with ease and affordability. The reason this type of foam is a favorite is because it keeps the price down without compromising on the quality. This type of 2 1/2-inch eggcrate foam is the perfect solution for someone in need of soundproofing on a budget. While it can be used for a range of applications, the nature of it makes it ideal for people planning to cover their dampening foam with acoustical cloth for an added buffer.
We offer this reliable foam solution in the standard size of 72" x 80" to meet your needs with ease. This option is a little bit thicker than our others, so it provides even better soundproofing capabilities. The unique shape of the foam makes it especially well suited to dampening sound vibrations which makes it ideal for spaces where you need to create a quieter environment.
If you have any questions about any of our high performing foam solution, please Contact Us. We are always happy to assist you in finding the right solution for your exact needs.
Standard Size: 72" x 80"
Details
Acoustical Performance Data
Overall NRC: 0.60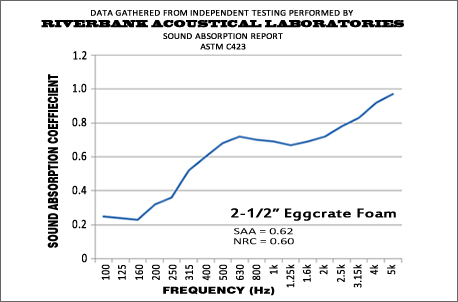 To view the full PDF report of our acoustical test results, see the resources section (below).
Flammability Test Results
Classification: Class A
Flame Spread Index: 25
Smoke Developed Index: 250
Resources
Notes
Manufacturing Tolerances
Products may carry a size tolerance depending on the style and job. Please see our Tolerance Table.

Standard Sheet Sizes/Quality
Standard sheets of foam are cut slightly larger than the listed size to compensate for shrinkage during packaging, transit, and delivery. Sheets may contain rough edges. Any yellowing/discoloration present is a byproduct of exposure to light during production and manufacturing and does not represent a flaw, damage, or defect in the material.
Reviews
Brad Smith | January 16th, 2023
The acoustics in my band rehearsal room was horrendous. After a lot of research I purchased 2" eggcrate and corner bass traps from Foam Factory and it made a big difference in sound. Quality product, great prices and fast shipping (arrived earlier than estimated). What more more can you ask for!
James Rude | November 7th, 2021
I bought 2 sheets and am buying 2 more right now. It is just great. I'll be buying more in the future. Thanks for doing the right stuff.
Benjamin lockhart | February 13th, 2021
I AM IN THE BAND SKULL SNAPS WE NEEDED SOME MORE TREATMENT. ALL MY ORDERS ALL HAVE BEEN AWESOME !!!!
James Miller | January 24th, 2020
I ordered a 72" x 80" sheet of the 2 and a half inch eggshell foam. It's definitely higher quality than any old foam you might find in a box that something was shipped in. It made a big difference in the sound in my room, it helped cut out the ringing which helped improve the clarity of dialogue. It came in a much smaller package than I was anticipating and it only took about 20 minutes for it to uncompress. Quality product for the best price I found, I will recommend this site to others.
Randy | January 8th, 2020
I bought 4 sheets of this egg crate foam to install on the walls and ceiling in my vocal booth. I am very satisfied with the material it was exactly as I expected. Fair price and the packaging was perfect.
Dani Gnecco | December 18th, 2019
Just ad expected; great quality and fast shipping. Thanks!