Features
The perfect do-it-yourself option for custom home comfort, this zippered, 100 percent micro-fiber suede covers can be stuffed at home with your favorite filling material. Available in all the sizes and colors offered for our pre-filled Foam Sacks, these durable forms can be packed with any of our Shredded Foams, bean bag pellets, or other filling for individualized comfort. By stuffing these covers with the exact amount of filling desired, an individual can create a truly customized sack with the optimum blend of comfort and support. These are also excellent for replacing damaged foam-filled furniture by simply transferring the filling contents into the new liner. Zippers are encased in welting for safety.
Suggested Filling Amounts
3ft Foam Sack: 1 Large Bag*
4ft Foam Sack: 2 Large Bags*
5ft Foam Sack: 3 Large Bags*
6ft Foam Sack: 4 Large Bags*
7ft Foam Sack: 6 Large Bags*
8ft Foam Sack: 7 Large Bags*
*Large bags are 36" x 36" x 48" and contain approximately 30LB of foam.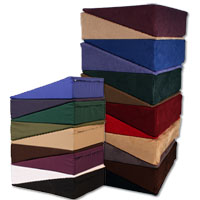 Notes
IMPORTANT: Covers Only
These are only ONLY. Products do not include any filling material, which must be purchased separately. Pre-filled Foam Sacks may also be purchased.

Manufacturing Tolerances
Products may carry a size tolerance depending on the style and job. Please see our Tolerance Table.

Actual Fabric Colors
Colors above may differ from actual fabric colors due to differences in your monitor's (screen's) setup.
Reviews