Four Foot Shredded Foam Sack
Features
Sized as a luxurious single-seat for an adult or a cozy two-seater for children, the four foot round foam sack provides extra comfort and fun without monopolizing space. This sack is a great fit for any medium-to-large room in need of additional seating like an entertainment room, bedroom or recreational room. Filled with shredded conventional foam, our four foot round sack is also a popular size for college dorm rooms. Additionally, our suede covers strike the perfect balance of having enough give to mold to your shape without stretching out over time.
Size: 48" diameter x 24" height
Capacity: 1 adult or 1 to 2 children
Includes: Foam, zippered inner black twill liner, zippered suede cover
Details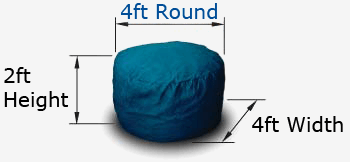 Resources
Notes
Manufacturing Tolerances
Products may carry a size tolerance depending on the style and job. Please see our Tolerance Table.

Actual Fabric Colors
Colors above may differ from actual fabric colors due to differences in your monitor's (screen's) setup.
Reviews
Stephanie | April 19th, 2023
The foam sack is big and heavy. The cover is less than 48" in diameter. I don't remember the actual size but even though it's less than 48", it still felt a little too big for me (I'm 5' 3") so I sewed the circumference to make it smaller and it's now great. I've fallen asleep in it a few times already. I don't feel any lumps or bumps because the foam is well shredded. The fabric is strong enough to withstand dragging, kicking, and jumping. It is a bit warm though ... so I might not use it as much during the warmer weather.
Michael Martin | January 6th, 2023
Bought this as opposed to a Big Joe. It is a very comfortable chair and does not deflate like my other bean bag type chairs.